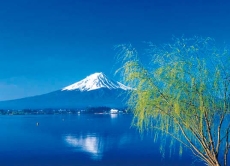 It is not only the highest mountain in Japan, but is also a famous symbol of Japan. Many people like the thought of climbing Mount Fuji, although it is not easy and can only be climbed during July and August. Station 5 (2,300m) can be reached by foot or by car via the paved roads. However, if you plan to climb to the summit, proper hiking equipment is crucial. Mt. Fuji and surrounding areas have been registered as World Cultural Heritage in June 2013.
Mt. Fuji Information
145 min. from Shinjuku Sta. by Chuo Kosoku Bus, 2,600 Yen
Fuji Five Lakes (Fuji-Goko)
Formed by lava, from various volcanic eruptions on the northern foot of Mount Fuji, the "Fuji Five Lakes" are
Lake Kawaguchi
,
Lake Yamanaka
,
Lake Sai
,
Lake Shoji
and
Lake Motosu
.
The beautiful reflection of Mount Fuji on Lake Kawaguchi is sometimes called "Reversed Mount Fuji". This image is often reproduced in print.

See also: