Got a free weekend? Hawaii and Guam are too far away, and Okinawa's too expensive? Shizuoka might just be the place for you then. To be precise, the small and cozy seaside town of Atami. Located just 100km south of Tokyo, and easily accessible with the JR Tokaido lines and Shinkansen, Atami (熱海) has for many decades been a popular weekend retreat for Tokyoites in search of a little beachside flair.
The seaside town, whose name literally means "hot ocean" is not only home to a beautiful sandy beach inside a wind-protected bay, engulfed by palm trees that are almost reminiscent of the more major resort areas mentioned above, but is also famous as an exquisite hot spring resort. In fact, Atami is situated inside the Fuji-Hakone-Izu National Park, famous for its abundance in hot spring activity. All of this makes Atami an ideal all-year destination. Thanks to being located along a warm air current, the city's climate is mild in the winter and humid in the summer, and even if you happen to visit on a cold day, the hot springs are sure to do their bit in brightening your mood.
Furthermore, while having been a hotspot for tourists coming from the capital from the 1960s, thanks in particular to its stop on the Tokaido Shinkansen, Atami lost a lot of its visitors and popularity following the bubble years, with businesses cutting down on company tours and a general slump in tourism. However, this trend has been reversed in recent years, and the area has been rediscovered once again, not least thanks to its competitive prices and its beautiful ocean scenery.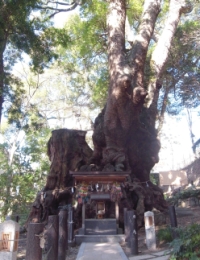 If you are looking for a little more than simple beach and hot spring relaxation, Atami has some interesting spots on offer for you as well. One of the most impressive of these is the Kinomiya Shrine (来宮神社) complex. This is located in Atami's Nishiyama-cho district and is most famous for its massive sacred tree behind the actual shrine. While the shrine is said to be built in 711, the camphor tree dates back to a time more than 2000 years ago. The tree is so integral to the sacredness of the location, that the shrine is actually named after it, with "Kinomiya" meaning "shrine of the tree". The accompanying legend states that for every lap you walk around the gigantic tree trunk, your existence will be extended by another year. While there may be obvious limitations to this practice, it is worth making a few rounds just for good luck.
So while Atami, to the foreign visitor, does at times bring up memories from old Miami Vice or Magnum P.I. episodes, its stuck-somewhere-in-bubble-Japan charm makes it all the more likeable. With JR tickets from Tokyo selling for just about 1,500 Yen, and hotels and ryokan in the area still on the reasonable side of things, there aren't many arguments left against a short trip due south. Last but not least, when compared to its other two major seaside rivals in the Kanto area, Enoshima and Kamakura, Atami manages to please. Cleaner beaches and a less self-conscious vibe make for a satisfied weekend out.