This American-style Thanksgiving Festival is a rarity in Japan. Named after Dr. Paul Rusch, a Kentucky native who, focusing on the area around Yatsugatake Nanroku, devoted his life to helping rebuild Japan and introduce democracy after the war, this festival boasts more than 50,000 visitors every year. The festival features Yatai food stalls serving dishes made from local ingredients harvested from the surrounding pastures and hand-made crafts. Along with this, there will also be music concerts, a tractor parade, a pony race, and more.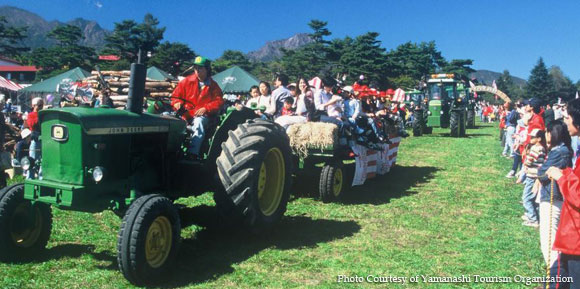 Kiyosato Seisenryo (Hokuto City, Yamanashi Prefecture)
Access from Tokyo
From Shinjuku Sta. take the JR Chuo Line to Kobuchizawa Sta., transfer to the Koumi Line and get off at Kiyosato Sta. The venue is about 30 minutes on foot from the station.
October 17 - 18, 2015
Website: Paul Rusch Festival Yatsugatake County Fair

(in English, Official Travel Guide Yamanashi)
Website: Paul Rusch Festival Yatsugatake County Fair

(in Japanese, KEEP Organization)
Paul Rusch Festival Yatsugatake County Fair