This village is famous for its houses with traditionally thatched roofs and its renowned rearing of silkworms. Together with the surrounding mountains and fields, it creates a truly beautiful landscape. Due to the notorious winter snowfalls, this community was occasionally cut off from any contact to the outside world, allowing it to keep some of its age old tradition and culture. Seasonal events such as a spring festival and rice planting are of course also held. During the winter months, there are special days on which the whole of Shirakawa-gō (白川郷) is illuminated at night.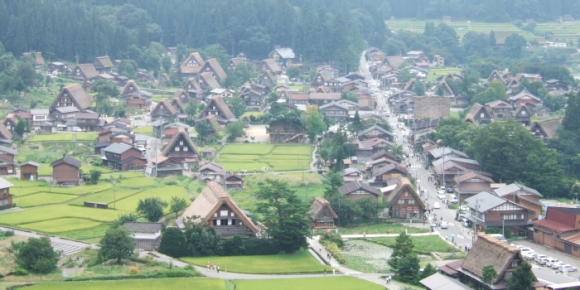 Shirakawa village, Ohno county, Gifu prefecture / Nanto city, Toyama prefecture
Access from Tokyo:
1hr45min on the Tokaido Shinkansen from Tokyo Sta. to Nagoya Sta. From Nagoya Sta., 3hr10min to Shirakawago by bus.
Website: Wakayama World Heritage Center
Website: UNESCO

(English)
Wakayama World Heritage Center