Of the 130,000 hectare of mountainous terrain in Akita and Aomori prefecture, more than 17,000 hectare has been designated as a World Heritage Site. This area remains completely untouched by humans and includes the world's largest beech forest, as well as a breeding ground for a unique and invaluably intact eco-system. The area is divided into two separate parts, the buffer area and the core area. Entering the core area requires a prior application. In the surrounding area you can find the roughly 400-year-old beech "Mother Tree" and the "Anmon Waterfalls".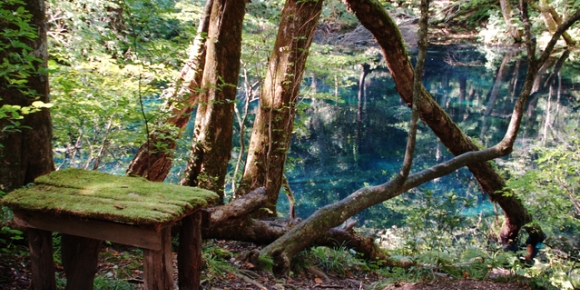 Southwest Aomori Prefecture ~ Northwest Akita Prefecture (Aomori Prefecture: Nishi-Tsugaru Country Ajigasawa Town, Fukaura Town, Nakatsugaru County Nishimeya Village. Akita Prefecture: Yamamoto County Fujisato Town)
Access from Tokyo:
(1) 1hr50min from Haneda Airport (Tokyo) to Aomori Airport (Aomori) by air. From Aomori Airport, approx. 2 hours by bus to Shirakami-Sanchi Visitor Center via Hirosaki.
(2) 70min from Haneda Airport (Tokyo) to Odate-Noshiro Airport (Akita) by air. From Odate-Noshiro Airport, 2 hours to the Juniko Lakes by car.
(3) 5 hours from Tokyo Sta. (Tokyo) to Akita Sta. (Akita) by the Tohoku Shinkansen (Komachi). From Akita Sta., 2hr40min to Shirakamidaketozanguchi Sta. by the JR Gono Line.
Website: UNESCO

(English)