Japan's toll-based kōsokudōro (高速道路, expressways) stretch the length and breadth of the country, offering faster and more direct routes between cities than ippandōro (一般道路, regular roads). To make cross-country road journeys more manageable, the expressways have regular service areas with shops, restaurants and amusements to help break up long trips. However, until the early 1990s, drivers who chose not to use the often expensive toll roads had little in the way of 24-hour designated rest stops. Expressway service areas were closed off to non-expressway traffic, and while drive-in restaurants and shops fulfilled a similar role on regular roads, their facilities were restricted to customers.
In response to increased motorisation, the former Japanese Ministry for Construction decided to promote the creation of 24-hour public service areas. These "michi no eki" (道の駅, roadside stations) would provide free parking, toilet and telephone facilities, as well as useful information. In April of 1993, 103 roadside stations nationwide were registered with the government. The establishment of Tokyo's first michi no eki in 2007 meant that these roadside stations could now be found in all 47 prefectures of Japan, and as of April 2015 there are over 1050 of them across the country.
While the word "eki" in Japanese is now used to mean a railway station, it was originally another word for the shukuba (宿場, post/relay towns) established by the early Tokugawa Shogunate in the 17th century, which acted as rest stops for travelling public officials. Shops and tea houses grew organically around the inns designated for officials, becoming successful enterprises.
While post towns largely died out with the advent of the railways, modern roadside stations have developed along a similar pattern. Many of them include shops and restaurants, and promote local tourism, culture and produce. Some have been so successful in this that they have become popular tourist stops in their own right, with many travellers visiting an area specifically to see the michi no eki.
International tourism website TripAdvisor compiled a ranking of the nation's favourite roadside stations based on visitor reviews. Check out the top ten below:
1. Michi no Eki Inakadate (Aomori Prefecture)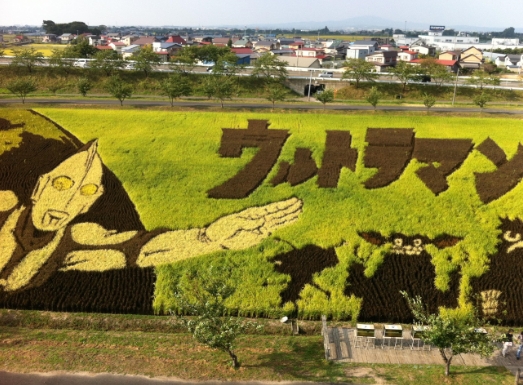 Located in central Aomori, the Inakadate Roadside Station is a large facility which includes a marketplace for local produce, a restaurant and a play area for children. The station's main claim to fame, however, is the impressive rice paddy art designs made each year in the nearby fields, viewable from the facility's observation deck. Visitors frequently note that photographs fail to capture the scale of the display, which has to be seen to be believed.
2. Michi no Eki Tajima no Mahoroba (Hyōgo Prefecture)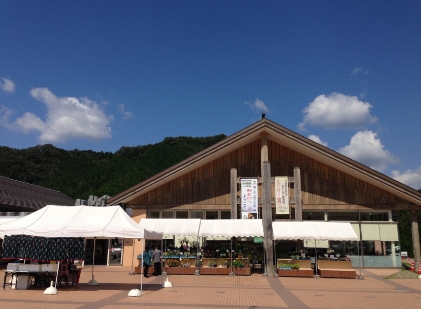 With a name meaning "splendid place/spiritual home of Tajima (former name of northern Hyōgo)", this roadside station is also a designated parking area along the the Kita Kinki-Toyooka road. The building is styled after a Kofun era government office, and houses a rich market of local produce. The most popular attraction is the neighbouring Asago Archaeological Centre, which is free to enter and displays historical and cultural treasures that were excavated in the area.
3. Michi no Eki Munakata (Fukuoka Prefecture)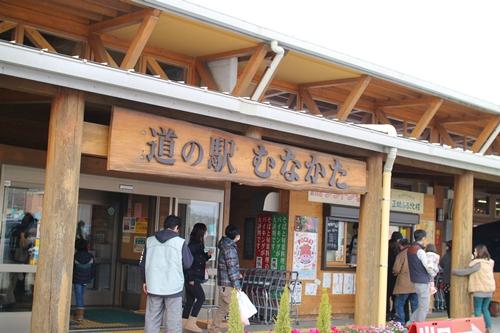 Munakata Roadside Station, located between Fukuoka City and Kitakyushu City, prides itself on its fish market, where you can buy fish caught that morning on the Genkai Sea. The fish are so popular that people line up even before the shop opens, and its stock is sold out by lunchtime.
The rest of the top ten
4. Michi no Eki Meiji no Mori, Kuroiso (Tochigi Prefecture) – has an impressive sunflower garden. [Map]
5. Michi no Eki Kyoda Yanbaru Bussan Center (Okinawa Prefecture) – offers a range of Okinawan culinary specialties [Map]
6. Michi no Eki Minato Oasis Uwajima Kisaiya Hiroba (Ehime Prefecture) – popular for its dining area and range of seasonal fruit and vegetables [Map]
7. Michi no Eki Akabane Loco Station (Aichi Prefecture) – has a surf shop and a view of the sea from its second-floor observation deck/restaurant [Map]
8. Michi no Eki Itoman (Okinawa Prefecture) – has a larger range of cheap fresh produce than other roadside stations, and items have the names of the farmers who grew them [Map]
9. Michi no Eki Kawaba Denen Plaza (Gunma Prefecture) – In addition to souvenir shops, the station has a number of stores selling sausages, bread and local ale [Map]
10. Michi no Eki Kurume (Fukuoka Prefecture) – offers a wide range of freshly-harvested vegetables. Farmers can sometimes be encountered at the market and shop staff are very knowledgeable [Map]
If you're planning a long road journey in Japan in future, you might want to check if there are any roadside stations along your route. They might be worth the trip alone.