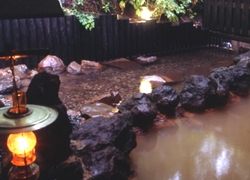 Following dinner, we set out from Misato-cho for Nyuto Onsen (乳頭温泉), about an hour and 15 minute drive by car. Our ryokan, a single structure called Taenoyu (妙乃湯), maintained a modern appearance amidst the rustic onsen village, situated in a lush forest at the foot of Mt. Nyutosan. The baths here are highly renowned for their ability to support healthy, beautiful skin due to the great concentration of iron, and the brown and transparent colors of the Golden and Silver hot spring baths delight visitors. One can enjoy a variety of baths including a mixed-bathing, outdoor bath opening onto a view of a waterfall, as well as private baths, and others equipped with chair rests and pillows allowing one to recline while soaking. From our room window, we could gaze out on the beautiful scenery of a mountain forest and stream.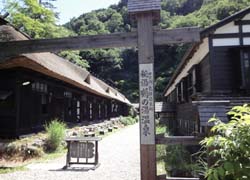 After breakfast the following morning, we headed out for Tsurunoyu Onsen (鶴の湯温泉), which boasts Nyuto's oldest history. Tsurunoyu Onsen was opened during the 17th Century as a secret health spa for the Akita daimyo (feudal lord). In contrast to the Japanese-modernism of Taenoyu, the buildings of the former daimyo inn, each over a hundred years old, with their thatched roofs, the water wheel overflowing with elegance, and the small bathing houses, surrounded by dense vegetation, make one feel as if they have wandered into an ancient folk tale.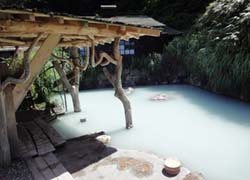 Inside the bathing area, one can enjoy different variations of water, bubbling up from four different sources, and flowing into baths each with unique personalities and names such as Shiroyu (白湯, white water) and Kuroyu (黒湯, black water). Outside, the pure white water of the gem of Tsurunoyu, a mixed-bathing, outdoor bath, sparkles and shines even purer in the sunlight. Here, the water bubbles up from the ground and into the bath, directly under one's feet, and is said to have the best water quality and temperature. In China, beautiful places like these where one could find solace from the world and the ravages of war and live in peace were considered earthly paradises. Tsurunoyu captures this feeling well – it is a place which grants of a sense of otherworldly beauty and solice.
Approx. 3hr by JR Shinkansen Komachi from Tokyo Sta. to Tazawako Sta.
From Tazawako Sta. take the local bus bound for Nyuto Onsen.