If you'd like a taste of summer culture from across Japan, look no further than the Wa No Akari x Hyakudan Kaidan exhibition at Meguro Gajoen. Running until the 2nd of September, the event showcases paper lanterns and other illuminations from summer festivals across the country, such as Aomori's Nebuta festival (below). With light as its theme, the exhibition also includes a number of illuminated ukiyo-e artworks, metallic sculptures and natural objects, such as leaves and fruit.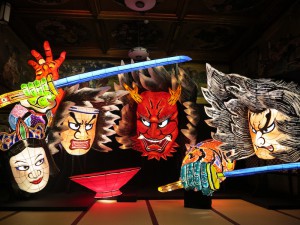 The exhibition is worth visiting for the venue alone – the Hyakudan Kaidan (one-hundred steps) of the title. The staircase and its adjoining rooms are the oldest remaining part of the original Gajoen, built in the 1930s as Tokyo's first dedicated wedding venue. The exhibition is hosted in a series of tatami rooms, decorated floor to ceiling with traditional images of Japanese nobles in elegant kimono, flowers and birds.
Also of interest is the venue's bathroom facilities, which are located on the ground floor of the main complex and are particularly luxurious.
Wa no Akari x Hyakudan Kaidan
Meguro Gajoen, 1-8-1 Shimomeguro, Meguro-ku
1st July-27th August
10:00-17:00 (August 13th-17th 10:00-20:00)
(Last entry 30 minutes before closing)
Entrance fee

:
Adults (Same day) ¥1500
Junior High, High School and University Students ¥800
Elementary school and under enter free
Wa no Akari x Hyakudan Kaidan