Along with the Sapporo Snow Festival, this artistic light display has become a well known reminder of winter. Now in its 33rd year, the festival grew from one location and 1,000 light bulbs to become known throughout the country. Objects themed around outer-space and Christmas shine splendidly along with decorations lining the trees along the road. A Christmas market is held at the same time as the festival.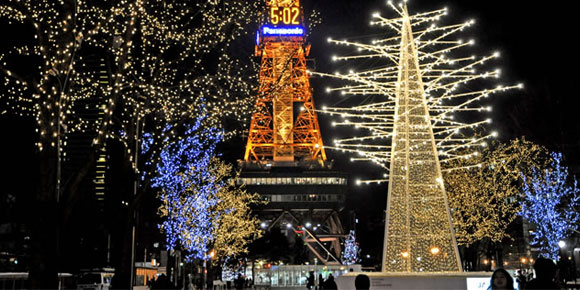 O'dori-Nishi 2-chome/3-chome/4-chome, Sapporo city, Hokkaido prefecture
Access from Tokyo
Approx. 1h30m from Haneda Airport (Tokyo) to Shin-Chitose Airport (Sapporo). From Shin-Chitose Airport, 40 min by the JR Line to Sapporo Sta.
O'dori: November 20 – December 25, 2015
Ekimae-dori: November 20, 2015 – February 11, 2016
Minami Ichijo-dori: November 20, 2015 – March 14, 2014
Light up: 16:30 to 22:00 (Dec.23-Dec.25: until 24:00)
Website: Sapporo White Illumination

(in English)
Sapporo White Illumination