This festival is carried out in hope of a successful harvest. Dancers wearing hats representing horse head carry out a very unique and stylized dance, in which they wave their heads back and forth, while singing traditional rice farming songs. The dance itself illustrates the separate stages of rice farming. The event is one of Aomori's three big winter festivals as well the Michinoku five big snow festivals, and designated as an "Important Intangible Folk Cultural Property".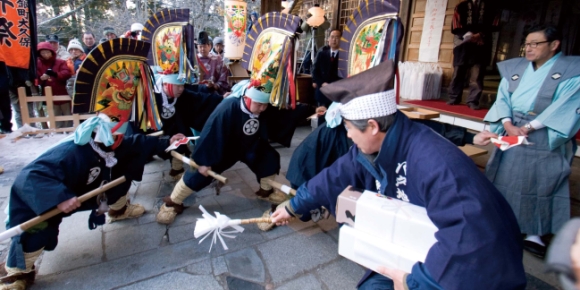 Access from Tokyo
Approx. 3 hours by the Tohoku Shinkansen (Hayate) from Tokyo Sta. to Hachinohe Sta.
From Hachinohe Sta., take the JR Hachinohe Line to Hon-Hachinohe Sta.
Feb. 17 - Feb. 20 every year
7:00am-8:30pm
(Highlight performances and performances open to the public generally start from around 1:00pm. Some of the stages require an admission charge.)
Website: Hachinohe Emburi

(VISIT HACHINOHE)