Matching their dance with the sentimental mood of the folk song "Etchu Owara" (越中おわら節), the dancers at this festival dance in a more subdued and elegant manner, while parading through town. On occasion, spectators are also welcome to join the dance. Should it rain, the festival will be cancelled. There also some indoor theater performances available. These, however are not free of charge. From August 20-30, there will be smaller pre-festival dancing in each town from 8pm-10pm.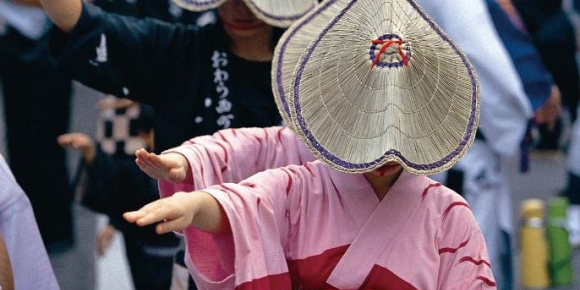 Suwamachi and other areas of Yatsuomachi, Toyama, Toyama prefecture
Access from Tokyo
1 hour from Haneda Airport (Tokyo) to Komatsu Airport (Ishikawa). From Komatsu Airport, 40 min by bus to JR Kanazawa Sta. Approx 1 hour from Kanazawa Sta. to Etchu-Yatsuo Sta.
September 1 - 3 every year
Website: Visit Toyama: Ecchu Yatsuo Tourist Association

(Japanese only)
Website: Visit Toyama: Owara Kaze no Bon

(Japanese only)