The Snow Festival is one of Hokkaido's most famous events, with Sapporo's main street lined with statues and sculptures made with ice and snow. Every year more than 2 million Japanese and international visitors come to see the spectacle, with the biggest snow sculptures reaching a width of up to 40m. In addition to the main festival you can try out some skiing and other smaller events. At night the sculptures give off a whole new sense of fascination, with elaborate illuminations creating a unique atmosphere. It is advised to bring warm clothes and anti-slip footwear. The whole festival is completely free of admission.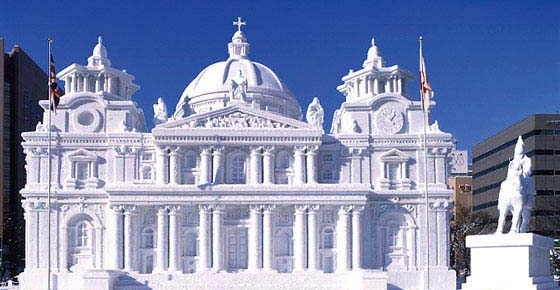 Odori Site (Odori Park Nishi 1-chome~Nishi 12-chome)
…Early morning – 10:00pm
Illuminations turns on at sunset, and turns off at 10:00pm.
Tsudome Site (Sapporo Community Dome)
…9:00am-5:00pm
Susukino Site (Ekimae-dori between South 4-South 7)
…Early morning – 12:00am
Illuminations turns off at 11:00pm. (On the last day, illuminations turns off at 10:00pm.)
Access from Tokyo
Approx. 1h30m from Haneda Airport (Tokyo) to Shin-Chitose Airport (Sapporo). From Shin-Chitose Airport, 40 min by the JR Line to Sapporo Sta.
Feb. 5 - Feb. 11, 2016
(Tsudome Site: - Feb. 18, 2016)
Website: Sapporo Snow Festival