The Kawagoe Festival (川越まつり) is a brilliant, gorgeous festival that takes place in what is often referred to as "Koedo" (小江戸), or Little-Edo, a town known for its many, well preserved, old fashioned Japanese ware-houses and businesses from several centuries back. The greatest characteristic of the festival are the Dashi, large floats that are lacquered with black, red, and gold-leaf, and which re-enact the Tenka Matsuri, from the Edo Period. The Dashi from this area have platforms constructed vertically like an elevator, on top of which elaborately designed dolls figurines of famous historical characters ride. Together with the combined height of the dolls, the Dashi rise over 8m. On the lower sections is a pedestal which can rotate 360 degrees. The greatest scene of the festival comes at its climax with the Hikkawase, a night time, lantern-lit competition of Japanese musicians.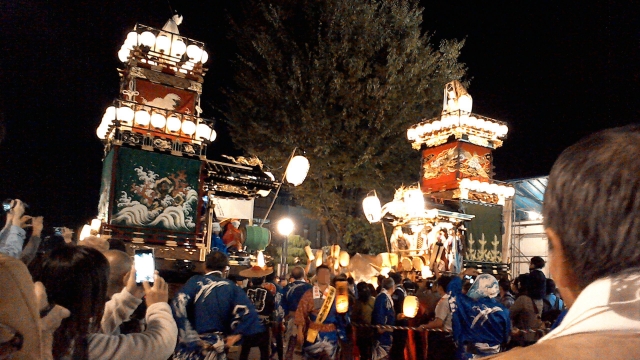 Access from Tokyo
(A) From Shinjuku Sta. take the JR Saikyo Line to Kawagoe Sta. or from Seibu Shinjuku Sta. take the Seibu Shinjuku Line to Honkawagoe Sta.
(B) From Ikebukuro Sta. take the Tobu Tojo Line to Kawagoe Sta.
(C) From Shibuya Sta. take the Tokyo Metro Fukutoshin Line to Kawagoe Sta.
October 17 - 18, 2015
Website: Kawagoe Festival Official Website

(in English)
Kawagoe Festival Official Website