Torinoichi (酉の市) is the religious festival of Otori Shrine that takes place every year on the Day of the Rooster (酉の日, Tori no hi) in November. The festival flourished around the Kanto area during the Edo Period, with the celebration at Asakusa being the largest and most clamorous in Tokyo. During Torinoichi, people give thanks for safely making it through the year and pray for luck in the next year. "Okame" masks and other good luck charms decorate bamboo rakes of all sizes called Kumade which are sold at outdoor stalls. These symbolize the action of raking in good luck and are mainly purchased for success in business. Visitors look to buy a bigger Kumade than the previous year, to ensure that luck will continue to come their way.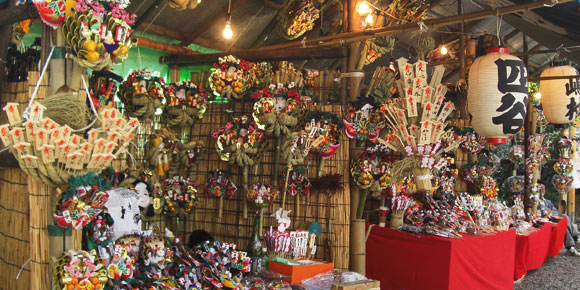 Dates for 2015: November 3, 15, 27
Early morning through late at night. The one at Asakusa starts from midnight to the next midnight.