At this festival, giant models of warriors and lantern decorated floats are taken through the city among powerful shouts. One of the many theories about the origin of the festival is that it is based on the "Tanabata" festival, during which the Japanese light a candle on a float and let it drift out into the ocean, in order to purify themselves and drive out evil spirits. Every year more than 3 million people come to watch the event. The floats are regulated to a maximum size of 9m wide, 5m tall and 8m long. Since the 1960s they have also been invited to join festivals in Europe, the US and Brazil among others. In 1980 it was decided to make the event a part of Japan's official "Important Intangible Folk Cultural Properties".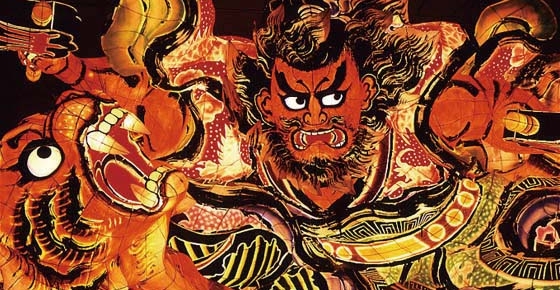 National Route 4, Shimmachi-dori Street, Kencho-dori Street, Heiwa Koen-dori Street
Access from Tokyo
1h15min from Haneda Airport (Tokyo) to Aomori Airport (Aomori). From Aomori Airport, 35 min on the JR Bus to JR Aomori Sta.
Aug. 2 - Aug. 7 every year
(Aug 2-6: nighttime parade / Aug 7: daytime parade, nighttime float on the water & fireworks)
Nighttime Events: 7:10pm-9:00pm / Daytime Events: 1:00pm-3:00pm
Website: Aomori Nebuta

(official website, machine translation)