You may know wa-gashi (和菓子, Japanese sweets) but do you know da-gashi (駄菓子)?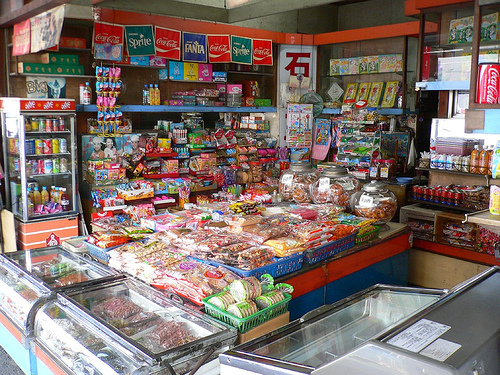 (original photo by dpika; CC BY 2.0)
Though best known for its traditional, refined confectioneries, Japan has its own unique selection of cheap and novelty candy that is as terrible, weird, wonderful, and cavity-inducing as you'll find anywhere else in the world. This is not the realm of local specialties and seasonal, bean paste-filled sweets. Pull out your spare 10-yen coins and enter the fascinating world of dagashi; cheap Japanese candy. Though over the years mom-and-pop candy stores have been disappearing and prices for many items have risen beyond the old 5-10 yen price range, dagashi continue to be sought after by the young and young-at-heart.
What to eat
Umaibo (うまい棒)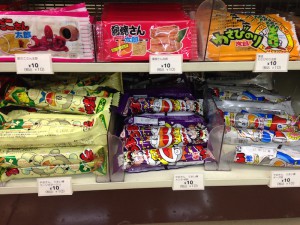 Umabo is a classic puffed corn snack that comes in a variety of flavors, such as cheese, takoyaki, tonkatsu (pork cutlet), and mentai (pollock roe), and usually sells for 10 yen. The name literally means "delicious stick." Try also Cabbage Taro (キャベツ太郎), another corn snack.
Konpeitō (金平糖)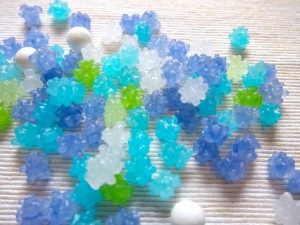 Konpeitō are a kind of hard sugar candy with a long history in Japan and associations with the Imperial Household. They come in a range of colours but are usually unflavoured.
Morocco Yogur (モロッコヨーグル)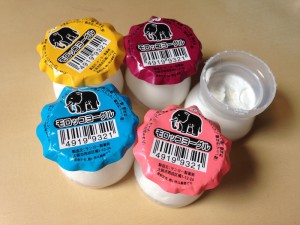 Morocco Yogur looks like a cheap plastic cup of yogurt with a picture of an elephant on the lid. The consistency is more paste-like than yoghurt, however, and comes in a range of fruit flavours.
Cocoa Cigarettes (ココアシガレット)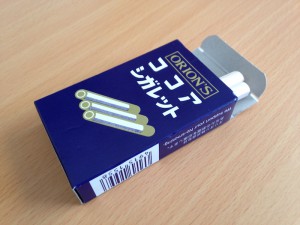 With anti-smoking policies on the rise in Japan, there's even more incentive than ever to switch over to cocoa cigarettes. This chocolate-flavored sugar stick is shaped like a cigarette and comes in a box to match.
The above examples serve only as a brief introduction. From dried squid to gummies and ramune (Japanese soda pop) flavored candy, the varieties of dagashi are endless.
Where to go
You can usually find a limited selection of dagashi on the lower store shelves of your nearest convenience store, but if you want the full-on dagashi experience, the following places in Tokyo are recommended:
Dagashi-ya Kimuraya (駄菓子屋木村屋)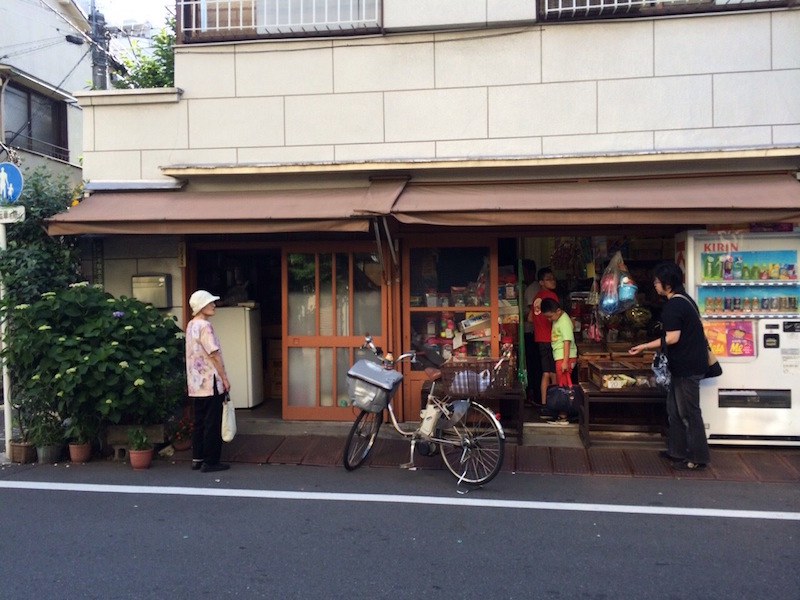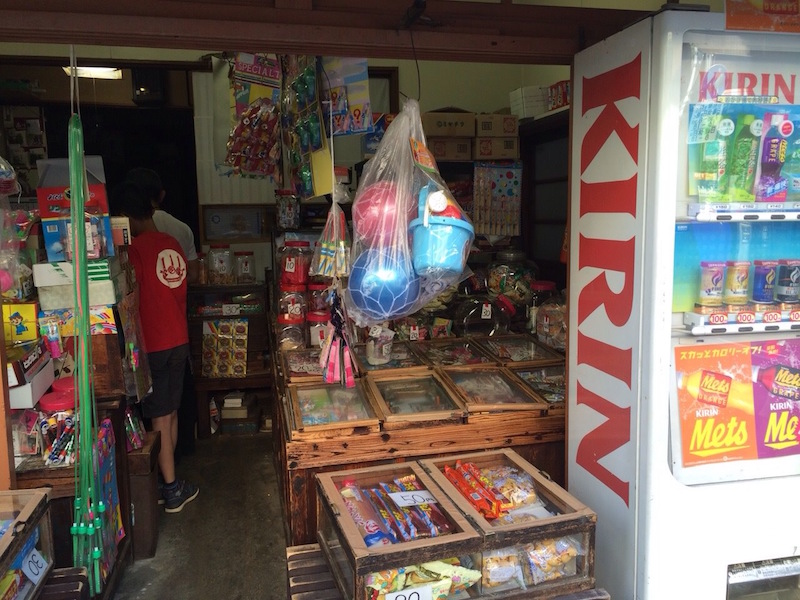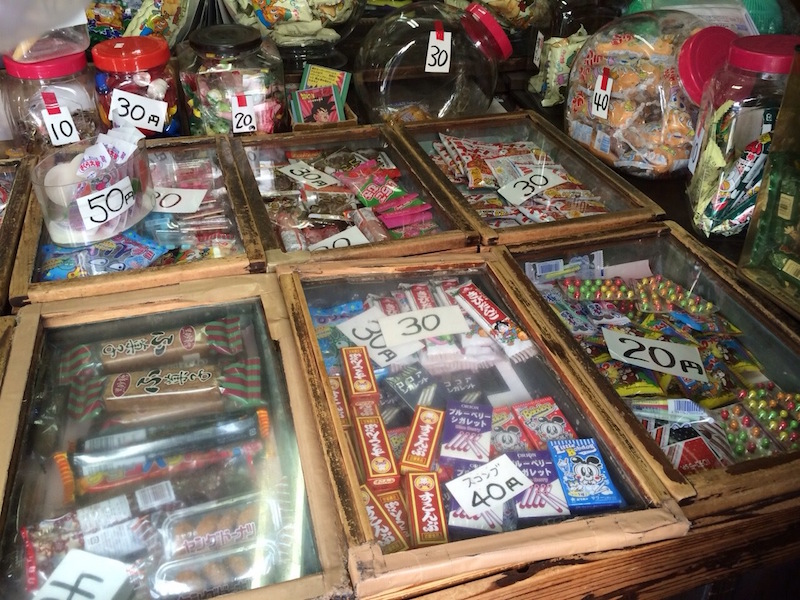 This old-fashioned dagashi-ya, located in the retro Sendagi-Yanesen area of Tokyo, offers a glimpse of Japanese nostalgia for Showa era days. You can stop by this sweets shop during a walk around the peaceful suburbs and enjoy the atmosphere of old Tokyo. Whereas 30 years ago there were 10 such shops in this area, now Kimuraya is the last one remaining. Of course, if you search hard enough you will most likely find some other discrete dagashi-ya in the suburbs or near parks near you, where kids can buy candy on the way back from school.

3-40-19 Sendagi, Bunkyo-ku, Tokyo
Dagashi-ya Kimuraya (駄菓子屋木村屋)
Skip the "nostalgic" sentimentality and get right down to business. Also known as the "Umaibo Building" due to the four-story tall umaibo decoration on the building's façade, you can't not notice this dagashi wholesale store, located across from Exit 4 of Kinshicho Station. Satisfy your sweet tooth with their huge selection of dagashi, sold individually on the 1st floor, or in bulk on the 2nd floor. Dagashi is not a typical gift, but they are cheap, and an assortment of weird candy from Japan is sure to delight (or confuse) your family back home.

3-4-12 Kinshi, Sumida-ku, Tokyo
10:00am-8:00pm
Holidays

: during Obon and New Year's holidays
Website: Ewatari (エワタリ)

(Jaapnese only)
Who said candy is for kids? The Dagashi Bar offers an affordable option for a night out in the more expensive Ebisu district. For 500 yen, you can enjoy all-you-can-eat dagashi (purchase of one drink required) while drinking with your friends in an establishment reminiscent of the Showa era. With over 100 types of dagashi to choose from, you may wish to consult with a dentist after visiting.

1-13-7 Ebisunishi, Shibuya-ku, Tokyo
Mon-Sat 6:00pm-4:30am, Sundays & holidays 5:00pm-0:00am
Website: Dagashi Bar (駄菓子バー)

(Japanese only)