Japanese handmade crafts have always received international acclaim for their fine quality and simple beauty. Japan's long tradition of crafting everything from swords, cutting knives, and ceramics to fabrics and woodwork has had a tremendous influence on the world in areas as distinct as cooking and design. Nambu Tekki is an example of one such craft.
Meaning literally Southern Iron in Japanese, Nambu Tekki is made through a 400-year old technique developed in the Iwate Prefecture of Japan. The crafting of tea kettles, weapons, and armor began in the city of Morioka when casters and craftsmen from Kyoto started their work in this iron-rich region. The local deposits of ore, clay, and charcoal created an ideal situation for the development of the craft in the area, and the technique has continued in the cities of Morioka and Mizusawa in the centuries since.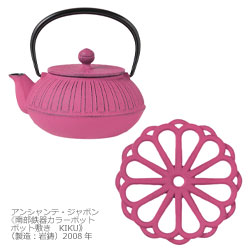 More recently, Nambu Tekki has received a renewal of interest throughout the world as the demand for natural and handmade products has increased. After tea salons in France and Belgium began making use of Nambu Tekki, demand for these intricately designed tea kettles began to spread through Europe and to the US. In turn, this surge in popularity lead to a resurgence of the craft within Japan itself. The craft also has some positive health effects. Drinking water boiled using Nambu Tekki is said to taste milder, and has effect on efficient iron supplementation. These facts made Nambu-Tekki more common in Japanese daily life.
While continuing the craft in the tradition of the original, craftsmen attempt to infuse their pieces with new elements of design. Scandinavian design and feminine aesthetics are examples of prominent features. As these artists continue to experiment with their craft, the future is looking bright for the ongoing production of Nambu Tekki in Japan.
"Made in Japan: 400 Years of Nambu Tekki Ironware" is currently on exhibition at the Panasonic Shiodome Museum through to March 23rd. The exhibition features approximately 80 pieces of ironware, from kettles, teapots, iron pans to even a tea room, from the Edo Period up until today.
January 11 – March 23, 2014
10:00-18:00 (last admission 17:30), closed on Wednesdays
5-6 minutes from Shiodome or Shimbashi Stations
Admission: Adults 700 Yen (65+ 600 Yen), Uni 500 Yen, 7-12th grade 200 Yen, admission free for children under 6th grade