While you may have heard Japanese friends or acquaintances tell you about Japan's "unique" four seasons, and while this may come as a surprise to some foreign visitors from countries that count the exact same number, the undeniable beauty of a Japanese spring, surely, is worth praising.
One of the main attractions of this season is the so-called Hanami, or flower viewing, where flowers generally refers to the sea of cherry blossoms. Historically however, it was actually the plum trees, which come to bloom about a month prior to its pink counterparts, for which the crowds streamed outside. While this tradition has survived to the present day, it is now upheld mainly by older generations, for whom the April cherry blossom spectacle has become too loud and too busy.
For those of you, however, in search of a truly Japanese experience, a visit to one of the many famous Hanami sites, such as parks and riversides is highly recommended. Despite its romantic image, the atmosphere at these flower viewing outings is anything but tranquil, with the most popular spots right under the cherry trees quickly turning into vivacious open-air parties.
The Japanese proverb "hana yori dango", literally dumplings over flowers, underlines this notion, putting into perspective what Hanami is really all about. The flowers, sure, but the party, all the more.
Every year, company freshmen receive their first task together with an oversized blue tarp, which is to be used as a large picnic blanket, heading out in the morning hours to reserve the best spots in nearby parks. During lunch and towards the evening, they are then joined by a mass of blossom hungry co-workers, with Hanami parties easily turning into late night events.
There are, of course, alternatives to the cherry drunkenness, should you rather want to take a more relaxed stroll through the white clouds of falling petals. The Kitanomaru Park-Chidorigafuchi area, and the Meguro River, with its night time illumination or the Sumida riverside, where you can view the trees from one of the many boats and shuttles that pass by.
Outside of Tokyo you have Lake Kawaguchiko, which should put you in a full-on Japanese state-of-mind, with a wonderful view of Mt. Fuji, framed by branches of cherry blossoms.
All of these are merely selected suggestions from the great and varied pool of Hanami experiences, and it is entirely up to you to find out how to best enjoy the first warm days of the year amongst the most Japanese of sceneries available.
As cherry trees only blossom for not much longer than a week, forecasts on when exactly the blooming begins are very extremely popular, helpful and surprisingly exact. This year the Tokyo region is estimated to be in full bloom around the last half of March, with the north of Japan trailing into the beginning of May, and the south starting comparably earlier.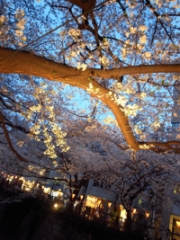 Finally, below we provide you with a list of some more famous and popular Hanami spots: