The Tokyo public transport system is the fastest and the most convenient way to travel around the city. It is advisable to avoid the morning rush hour between 7:30am and 9am, as during these hours trains are often so busy that passengers must be pushed to fit onto the train by station staff. In general, both overground trains and subways run from around 5am to 1am. For train and subway maps, see Tokyo / Yokohama Railway Map.
You can buy a prepaid fare card which you can use on trains, subways and buses in Tokyo and Yokohama. For further information, see PASMO and Suica .
Tokyo / Yokohama Railway Maps
Overground Trains
The overground rail network in Tokyo is mostly operated by JR East. There are also around seven other private companies operating lines within the city, and linking the city to other prefectures. At stations with lines of more than one company, each company's lines will typically have its own ticket gates. Transferring between two companies' rail lines (including the subways) usually means paying a separate fare for each stage of the journey. Where possible, it is cheapest to stick to a single company's lines for each journey.
You will find that some trains transfer from one line to another, and in some cases between companies, along a single route. An example is the Tobu Tojo Line, which may transfer to Tokyo Metro's Fukutoshin Line, then to the Tōkyū Tōyoko Line before finally becoming the Minatomirai Line.
Station names are written in kanji, hiragana, and English. Train announcements are made in Japanese and English on major lines.
JR
JR has more lines in Tokyo than any other company. The center of the system is the Yamanote Line, which loops around the city and links to all the major stations. The Chuo Line cuts across the Yamanote "loop" between Shinjuku and Tokyo stations. Other major lines include the Saikyo line, which links Tokyo with Saitama Prefecture, the Keihin-Tōhoku line, linking Saitama and Yokohama through central Tokyo, and the Keiyō Line, which links Tokyo with Chiba Prefecture and the Tokyo Disney Resorts.
050-2016-1603
|
10:00am-6:00pm
Private rail
Keio – has six lines in the Tokyo Metropolitan area. Two of the main lines are the Keio Line/Keio New Line linking Shinjuku and Hachioji, and the Keio Inokashira Line, linking Shibuya and Kichijoji.
Odakyū – has three lines in Tokyo and Kanagawa, notably the Odawara line linking Shinjuku and Odawara.
Seibu – has a number of lines and branches, including the Seibu Shinjuku line, linking Shinjuku and Saitama, and the Seibu Ikebukuro Line, linking Ikebukuro and Saitama.
Tōkyū – has seven lines in Tokyo, including the Tōyoko line, linking Shibuya and Yokohama, the Den-en-toshi Line, linking Shibuya and Yamato in Kanagawa, and the Meguro line, linking Meguro and Yokohama.
Keikyū – has five lines in the Tokyo and Yokohama areas, including the Keikyū Main Line, linking Tokyo's Minato Ward with Yokosuka in Kanagawa, and the Airport Line, linking Kamata with Haneda International Airport.
Keisei – has seven lines in Tokyo and Chiba, including the Main and Narita Airport Lines linking Tokyo to Narita International airport.
Tobu – has eleven lines in and around Tokyo, including the Skytree Line which links Asakusa with Miyashiro in Saitama, and the Kameido Line, linking Hikifune and Kameido in central Tokyo.
Service Types
There are several names used for different train services, which indicate the speed of the train (see below). Faster trains will skip some stations, so make sure the train you ride will stop at your destination. To speed up your trip, take a rapid or express train until the last stop before your destination, and then transfer to a local train.
Train Services (slowest to fastest)
LOCAL
普通
(futsuu)
各停
(kakutei)
Local trains stop at every station along the route.
RAPID
快速
(kaisoku)
Rapid trains skip some stations to cut down on travel times.
COMMUTER RAPID
通勤快速
(tsuukin kaisoku)
Commuter rapid trains run only during morning and evening rush hours, with speeds similar to express trains.
EXPRESS
急行
(kyuukou)
Express trains stop at fewer stations than rapid trains. JR charges an express fee in addition to the base fare.
LIMITED EXPRESS
特急
(tokkyuu)
The fastest of type of regular train, a limited express train stops only at major stations. JR charges a limited express fee in addition to the base fare, but some private railway companies do not.
SHINKANSEN
新幹線
(shinkansen)
The Shinkansen bullet trains are the fastest way to travel. They run separately from regular trains and are managed exclusively by JR. A fee between about 900 to 9000 yen is charged in addition to the base fare.
☆The above fee is in case of Tokaido/Sanyo Shinkansen.
See also:
Inter-city Travel
for details about travel beyond city borders.
Subways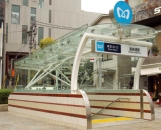 Tokyo's subway system covers many areas that the overground rail network does not. Subway services are operated by two companies – Tokyo Metro, which has 9 lines, and Toei Subway, which has four. For ease of use, each station is coded with a letter and number. You will find these on platform signs and route maps. Both companies use coloured circles with a letter representing the name of the line on signs at the various stations, but as they are different companies they each have their own ticket gates.


Services for Commuters
There are some more unique services and customs that you should know in Japan, including "Commuter's Pass," "Delay Certificates" and "Women-only cars".
Delay Certificates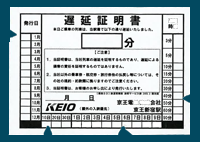 When a train service is stopped and delayed due to an accident, weather conditions, technical problems etc. a delay certificate called a chien-shōmeisho (遅延証明書) is issued by the railway company. This certificate proves that its holder is late because circumstances they are not responsible for. In Japanese society, where punctuality is paramount, the certificate is very important to students and workers as it can be used as a valid reason for arriving late. Though the certificate is usually enough to prevent the individual for being blamed for their lateness at school or work, the railway company does not hold responsibility for any kind of damage or loss caused by the delay.
The certificate is most commonly a white piece of paper approximately 11x8cm in size, with numbers indicating the month, date, and the minutes delayed. Small cuts or punch holes are made on corresponding numbers, and in some cases the minutes are written on the slip. Depending on the railway company a certificate may be issued when the delay is as short as 3 minutes. The certificates are given out at train stations, sometimes distributed by station staff, and in some cases placed in a box. Some companies release digital versions online; however, these may not have the same validity as the paper slips. Most if not all railway companies nationwide issue delay certificates, and very few bus operators as well.
Women-only Cars

To provide a safe environment for women during rush hours, JR, Metro and other train lines have clearly designated josei-senyō sha (女性専用車, Women-only cars). During specified hours, the only people allowed on the designated cars are women, boys and girls under 6th grade and disabled people along with their attendants, as long as one of them is female.