Bicycles in Japan, especially the ubiquitous "mama-chari," the (often) single-gear bike equipped with a basket and rack, are a convenient form of transportation ideal for running errands and making short trips in Japan's urban areas, and cycling is often grouped with pedestrian activity in the public consciousness. However, be aware that bicycles are treated the same as vehicles under Japanese Road Traffic Law.
Roads in Japan are narrow, corners are sharp, and many streets lack adequate bike lanes or even complete sidewalks, especially in urban and residential areas. Your utmost caution is required at all times when riding a bicycle. The Metropolitan Police Department has laid out the following rules to reduce the number of bicycle-related accidents.
See also:
our featured article
8 Things You Can't Do on a Bike in Japan
.
Useful Japanese Words: Bicycles
| | |
| --- | --- |
| Jitensha (自転車) | bicycle |
| Chari (チャリ) | casual word for bike |
| Panku (パンク) | flat tire |
| Kūki-ire (空気入れ) | bicycle pump |
Bicycling Rules
Your bicycle must be equipped with a working headlamp, rear reflector, and bell. Always turn on the headlamp when riding at night.
Register your bicycle with the prefectural government (see Bicycle Anti-Theft Registration). This is not a tax or insurance.
Ride on the left side of the road (Road Traffic Law as of December 2013), and follow the same traffic regulations as cars, such as stop signs and traffic signals.
Cycle on sidewalks only when there are designated bike lanes or shared sidewalk signs, or under unsafe road conditions. Always yield to pedestrians.
When making a right turn at large intersections, follow pedestrian crosswalk signals. Do not cut across the intersection diagonally.
Do not ride a bicycle while drunk, using an MP3 player, or phone.
Helmets are mandatory only for children under 13 years of age.
Two-on-one biking is permitted only for riders over the age of 16 carrying children under the age of 6 on a special bicycle with a designated child seat. Cycle in single-file when in a group, not side-by-side.
In case of an accident, it is usually the larger party who is at fault, and will have to pay the medical expenses of the damaged party. Though bicycle insurance is not required, many people choose to enroll because of extremely high compensation fees for pedestrian injury or other damages caused by bicycles.
Bicycle Parking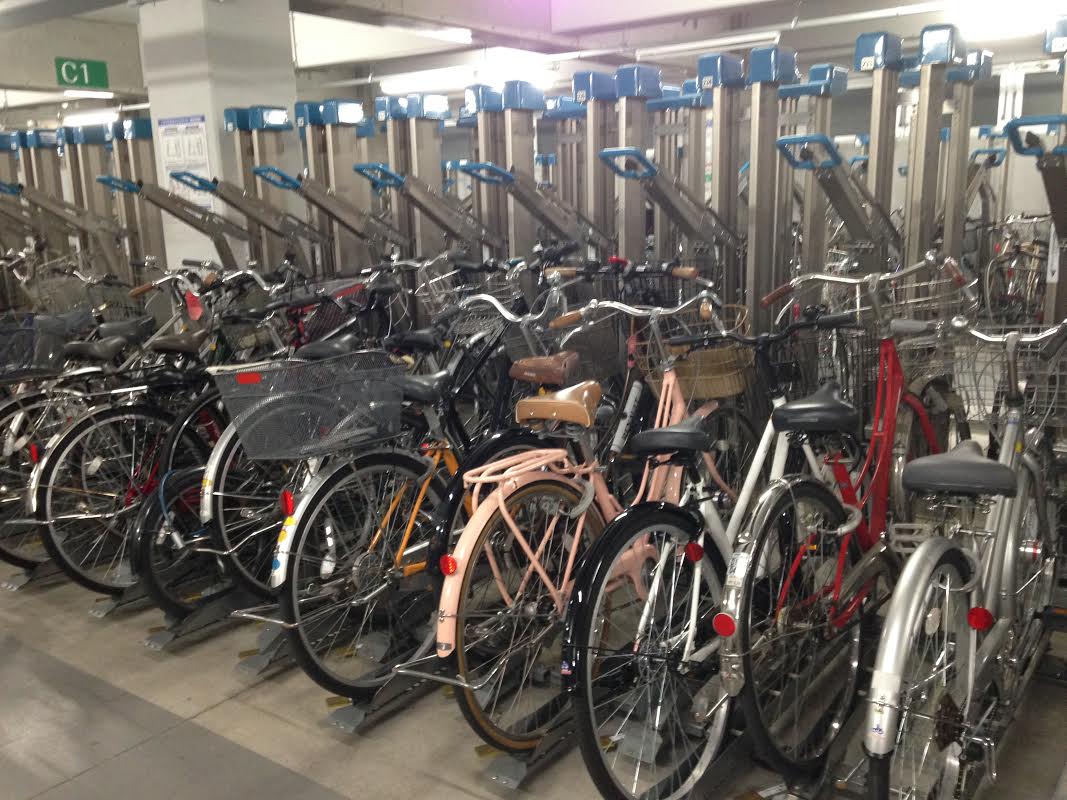 Bicycles are not allowed on public transportation, but some train lines will allow bikes that are taken to pieces and carried on in a special bike bag.
Free or inexpensive bicycle parking areas are available near stations and shopping areas, with those charging a fee ranging from hourly-based racks lining sidewalks, to ticketed garage-type lots, or underground automated storage systems.
Illegally parked bicycles are treated as 'abandoned' and may be removed from crowded districts. To claim your bicycle, you must travel to the pound, often located in inconvenient areas, and pay a fine to receive your bicycle back before it is disposed of.
Bicycle Anti-Theft Registration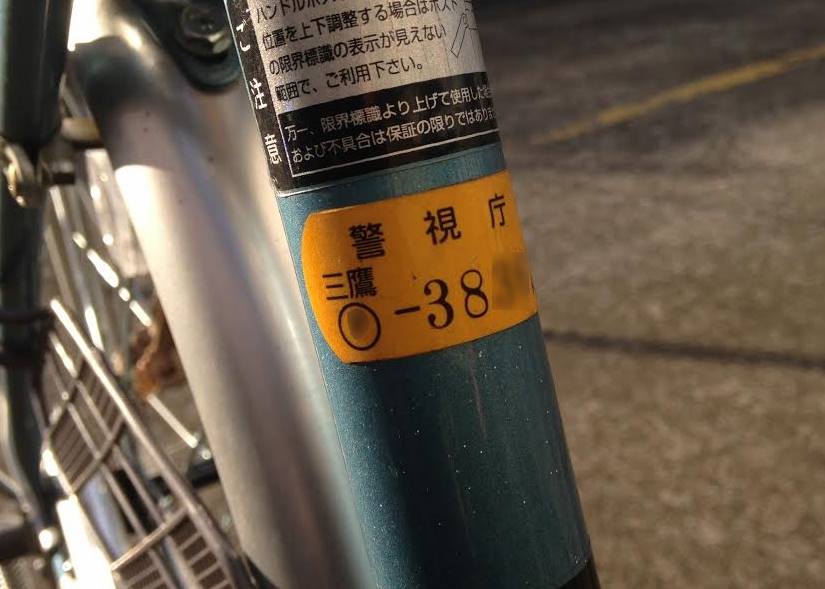 All bicycles must be registered in the owner's name at the prefectural police department. This is called Jitensha Bohan Toroku (自転車防犯登録, bicycle anti-theft registration). Registration allows the police to contact you when your stolen bike is found; though it is your responsibility to pick up the bicycle yourself.
Registration costs 500 yen and is completed at the time of purchase at the shop, owner's ID required. A registration sticker will be stuck on your bike.
If you take over a used bicycle from someone else, it is necessary to register the bike under your own name at the police box or bicycle shop, where you must bring documentation showing the original proof of purchase (bicycle serial number must match) and a note authorizing transfer from the previous owner.
It may be a type of 'profiling,' but police do periodically conduct registration checks. You may be accused of bicycle theft if you cannot prove that you are the registered owner of bicycle you are riding.
Other Notes of Caution
Police may also stop cyclists who appear to be drunk, or do not use a bike headlamp while riding at night. All bicycles should be equipped with a working headlamp, rear reflector, and bell. Though Japan is generally a safe country, bike theft, or theft of bike accessories such as removable headlamps, does occur frequently.