Airlines
Japan Airlines (JAL) and All Nippon Airways (ANA) are the two largest Japanese airlines, operating both domestic and international routes. In recent years, a number of LCCs (low-cost carriers) including Skymark, Peach and Jetstar, have begun operating routes within Japan and between neighboring countries. If you book a domestic flight far enough in advance with JAL or ANA, the price will not differ much from an LCC. Depending on the time of year, it may not be possible to book a flight more than a couple of months in advance. Check the airline's website for the date that tickets for your desired travel period go on sale.
Airports
Metropolitan Tokyo is served by two international airports: Haneda and Narita. Haneda is located in Koto Ward, at the southern point of central Tokyo close to the border with Kanagawa. Narita airport is located in Chiba Prefecture, around an hour's journey from central Tokyo.
Haneda Airport

(original photo by Purplepumpkins; CC BY-SA 3.0)
Haneda has two domestic terminals and one international terminal. Being the hub airport for Japanese national airlines, Haneda is the center of domestic travel. In addition, the expanded international terminal is becoming Tokyo's other base for international traveling, with the number of flights to Asia, USA and Europe increasing.
For information on airlines, please refer to the airport's website .
Transportation to the Airport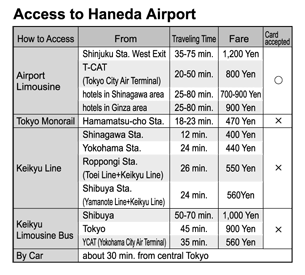 Convenient Services
Private Parking
If you are going to the airport by car, you can use the convenient parking services at a reasonable price.
Baggage Delivery Service
Luggage delivery service from your home to the airport.
Narita International Airport

(original photo by hirotomo t; CC BY-SA 2.0)
Narita International Airport is one of the largest international airports in Asia. There are 2 terminals, so it is necessary to know which terminal your flight is departing from.
Transportation to the Airport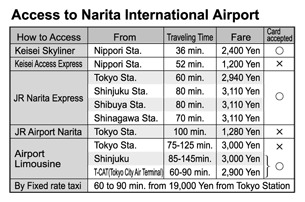 Convenient Services
Baggage Delivery Service
Airlines and Terminals at Narita International Airport
Data collected from the official website of Narita International Airport in October 2014.