Karaoke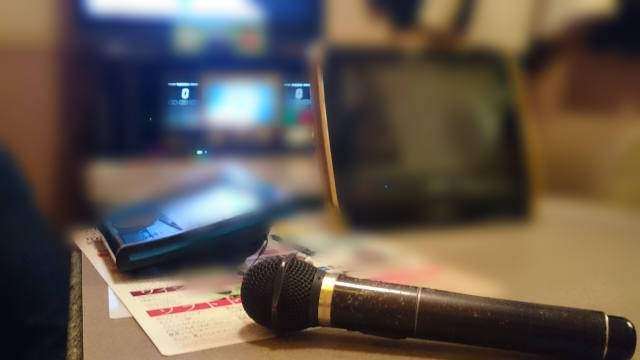 While karaoke in the west is often seen as a chance to show off one's singing abilities in a public atmosphere, in Japan it's more about the love of singing. Whether you have a great voice or not, in a private room there's no reason not to sing your heart out. Most karaoke box establishments have remotes with English guidance and songs are updated regularly, making it easy to find the latest hits. Food and drinks can be ordered to the room, making karaoke a great stop at the beginning or end of a night out.
Cinemas
Japanese cinemas offer the latest domestic films and international box office hits, although local screenings of Hollywood films are typically delayed by upwards of a year from the original release date abroad. Foreign-language movies are usually screened in the original language with Japanese subtitles (字幕), while animations are often dubbed in Japanese (吹き替え版).
Three of the largest cinema groups are 109 Cinemas (Japanese only), Aeon Cinema (Japanese only), and TOHO Cinemas , all of which run theaters with modern facilities and spacious seating in numerous locations across Japan. Theater seating is reserved, and tickets can also be purchased online in advance and printed out using the ticket machines at the theater. Many theaters offer discounts on tickets on certain days―one common offer is a "Lady's Day" discount for females on Wednesdays.
The largest of the three groups listed above, opened a new, multi-story theater complex in the Kabukicho district of Shinjuku in April 2015 with 12 screens and IMAX screening capability (3D). It is easily noticeable because of the giant Godzilla head peeking out from above the complex.

Shinjuku TOHO Bldg. 3F, 1-19-1 Kabukicho, Shinjuku-ku, Tokyo
Normal Ticket Price

:
Adults 1,800 yen, College students 1,500 yen, Seniors 1,100 yen
Website: TOHO Cinemas

(Japanese only)
6-10-2 Roppongi, Minato-ku
Normal Ticket Price

:
Adults 1,800 yen, College students 1,500 yen, 3yrs to High School students 1,000 yen
Website: TOHO Cinemas Roppongi Hills

(Japanese only)
TOHO Cinemas Roppongi Hills
The National Film Center (NFC)
Run by the National Museum of Modern Art, Tokyo, is located in Kyobashi, an area connected to Japanese cinema history since the Meiji period. The NFC collects, preserves, and restores historically precious films and screens alternative content such as lesser-known Japanese films or silent films (around 2 or 3 per day, depending on the schedule). It is also the host of the Pia Film Festival (PFF), the largest independent film festival for Japanese directors, held in September each year.
See also:
the
MOMAT venue page
for access information.
There are also several smaller, independently-run revival movie theaters in Japan that screen slightly older domestic and international films.
popular with students and foreigners living in Japan, and offers double-feature shows (admission to both movies with one ticket).

1-5-16, Takadanobaba, Shinjuku-ku, Tokyo
Regular Ticket Price

:
Adults 1,300 yen, Seniors (60+) and children 12 and under 900 yen, Students with ID 1,100 yen, and married couples (50+) 2,000 yen for a pair.
Website: Waseda Shochiku

(Japanese only)
Music Concerts
Nippon Budokan
,
Tokyo Dome
and
Yokohama Arena
host many music concerts, opera performances, theatre groups and classic performances.
Jazz Clubs
Tokyo and Yokohama have nice clubs that showcase live jazz, soul, and pop music performances by Japanese and international artists, while you enjoy food and drinks.
03-3215-1555
2 min. from Tokyo Sta.
5:00pm-11:00pm (Sat/Sun/N.H. 4:00pm-10:30pm)
03-3405-1133
Direct from Roppongi Sta.
5:30pm-11:00pm (Sat, Sun & N.H.: 3:30pm-9:00pm)
03-5485-0088
8 min. from Omotesando Sta.
5:30pm-1:00am (Sun&N.H.: 5:00pm-12:30am)
045-226-1919
6 min. from Bashamichi Sta.
6:00pm-11:00pm (Sun&N.H.: 3:15pm-10:00pm)