Residence Cards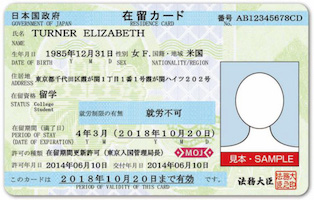 (original photo by 法務省入国管理局; All rights reserved)
All mid- to long-term foreign residents are required to obtain a "Residence Card" (previously: "Alien Registration Card", see below) , which serves as the primary form of identification in Japan. Foreign nationals residing legally in Japan are subject to be issued a resident card in addition to landing permission, permission for change of status of residence, and permission for extension of the residence period, etc. The card is equipped with an IC chip to prevent forgery and alteration, and the chip records all or part of the information included on the card.
Under the new residency management system based on Residence Cards, foreigners in Japan follow the same system as Japanese citizens and are included in the juuminhyou (住民票, government registry). Regardless of whether you just moved to Japan, or are moving within Japan from another municipality, mid- to long-term foreign residents must visit their new local municipal office within 14 days of moving in to complete the Juumin Touroku (住民登録, Residence Registration), notifying the Ministry of Justice of a new residence location. Doing so will update your Residence Card with your new address, necessary to register for many social services such as bank accounts or phone service. Along with the notification of tennyuu todoke (転入届, moving in), application procedures for updating the National Health Insurance card or National Pension using your new address can be completed at the same time.
For more information about the Residence Card, see the Immigration Bureau's website.
Births
You should report any births to your local municipal office within 14 days and apply for your child's resident card within 60 days. You must also apply for your child's passport and social security number at your embassy, as well as a status of residence and period of stay certificate from your local Immigration Bureau within 30 days. If you plan to leave Japan within 60 days of the child's birth, it is not necessary to apply for a residence card.
Marriages
Before getting married in Japan, contact your embassy or consulate to find out how to register your marriage in your home country, and check whether any additional procedures are required. Marriage itself only requires a visit to your local municipal office and filing a registration form which should also be undersigned by 2 witnesses.
In event of the death of, or a divorce from, a Japanese national, resident or special permanent resident, the immigration bureau must be notified within 14 days. Spousal visas will remain valid for no more than six months after the divorce or bereavement, so it will therefore be necessary to apply for a different status of residence if you wish to remain in Japan.
Tokyo Metropolitan Government Foreign Resident's Advisory Center
03-5320-7744, Mon-Fri: 9:30am-5:00pm
03-5774-0992, Daily 9:00am-11:00pm
Permanent Residency
As a Permanent Resident, you do not have to be concerned about your period of stay or activities in Japan. Permanent residency is granted based on your "contribution to Japan". The nature of this contribution, the application procedure and 50 case studies of successful and non successful applications are listed on the Immigration Bureau's website. Permanent Residents will not be required to apply for re-entry permits as long as they re-enter within one year.