Opening a Bank Account
You may open accounts at banks by filling out an application form and showing a residence card. Some banks may require a personal seal, but often, just your signature will be sufficient.
Shinsei Bank and other Japanese banks provide services in English, including online banking, but please be aware that some of Japanese banks may not offer any English information or support at the counters. Some banks will require you to have been resident for a period of 6 months to a year before you can open an account.
Cash Withdrawals
Japan is largely a cash-based society, and it is not unusual to make large transactions in cash. Personal checks are not used, and though credit cards are gaining popularity in Japan, many shops still operate on a cash-only basis.
Recently, the number of ATMs which accept foreign cards has greatly increased. If your card has the Visa, Mastercard, Cirrus, Maestro or Plus logos printed on it, you should be able to withdraw cash from ATMs located in post offices, major banks and convenience stores. Japanese bank branch and vestibule ATMs generally offer service for their own cards only, but will not charge for withdrawals within regular hours. Post office and convenience store ATMs offer service for cards from most Japanese banks for a small commission for each transaction. Commission fees may differ depending on the time of day.
Bank accounts come with a tsuuchou (通帳, bankbook), which can be inserted into bank ATMs to print a record of your transactions.
Credit and Debit Cards
Approval checks on credit card applications are particularly strict for foreign residents in Japan, and it may be difficult to obtain one soon after arriving. Debit card applications are not subject to the same checks, so you should be able to obtain one if they are offered by your bank. Seven Bank has an debit card account available to those who have lived in Japan for at least 6 months, and are at least 16 years old.
Transferring Money within Japan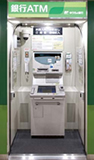 You can use ATMs for domestic bank transfers, even without a bank account, if the amount is less than ¥100,000. Just press the 振り込み button and input the recipient's bank details – if using cash, you will be prompted to feed the banknotes into the machine. You can save on the transfer commission by opening an account at a bank. Transfers between accounts at the same bank have lower fees than those between different banks.
Overseas Money Transfers
Dedicated overseas remittance services are usually the cheapest way of sending and receiving money internationally. These services operate online, through convenience stores and by domestic transfers to intermediary banks. Commission fees are usually lower than they are at banks, and in some cases the transfer is completed in a matter of hours.
Overseas money transfers through banks take at least 2-7 business days. The cost for transfers to and from most Japanese banks will be at least ¥4,000 (if receiving an international transfer from a Japanese bank, the bank will usually deduct this from the transferred amount, unless the sender paid extra to cover all fees). If intermediary banks are involved in your transaction, they may deduct intermediary fees from the amount transferred. In the case of receiving money from abroad, some banks will not allow receipt of foreign transfers within the first six months of the account being opened. For details on specific policies, please inquire at your bank.
Banks & Money Transfer Services
0120-50-4189

(toll-free)
or
045-330-2881

(from mobile phones)
0120-108420
(toll-free, Japanese only)
Mon-Fri 8:30am-6:00pm, Sat/Sun/N.H./Dec 31-Jan 3: 9:00am-5:00pm
0120-56-3143

(toll-free, Japanese only)
0120-227-503

(toll-free)
Mon-Fri 9:00am-5:00pm
0120-937-711

(toll-free)
Mon-Sat 9:00am-6:00pm