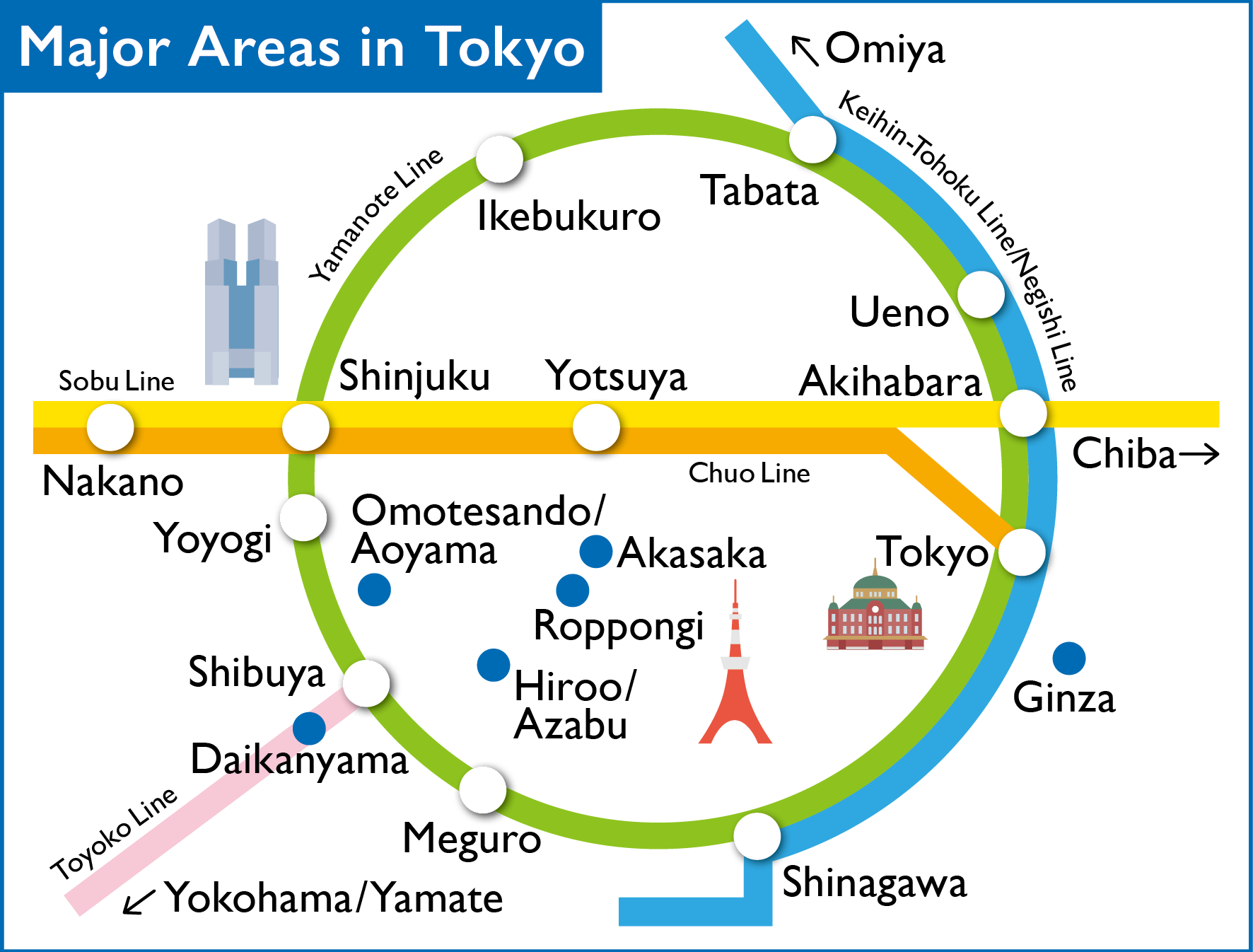 Popular Expat Areas
The following neighborhoods are known to be comfortable and foreigner friendly, making them popular among expats. In Tokyo these are Minato-ku (Aoyama, Azabu, Roppongi and Shirokane), Meguro-ku (Nakameguro and Jiyugaoka), and Shibuya-ku (Hiroo, Daikanyama and Ebisu). In Yokohama the popular area is Naka-ku. There are many international schools, shops and restaurants with English-speaking staff. Decide on the best place to live based on where you work, access to school for your children and the type of lifestyle you lead.
Hiroo & Azabu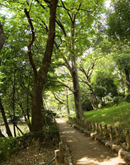 Hiroo and Azabu are known as upscale residential neighborhoods. In addition to residences, these neighborhoods are home to a number of schools, parks, temples, shrines and churches, providing a safe and quiet environment. At the same time, these areas are known for having sophisticated shops and restaurants. The numerous embassies, western-style housings, and international schools naturally draw a large expatriate population and form one of the largest cosmopolitan communities in Tokyo.
Roppongi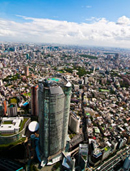 Roppongi is one of the trendiest and most cosmopolitan towns in Tokyo with a number of shopping complexes, offices of internationally affiliated businesses, eateries, and various services catering to the expatriate population. There are some international preschools and bus stops for major international schools in Tokyo, and a good selection of medical facilities with English-speaking doctors in the area. Many of the housing options for expatriates are in residential complexes, some high-rise. There are also a number of upscale hotels and serviced apartments for short-term stayers.
Shinjuku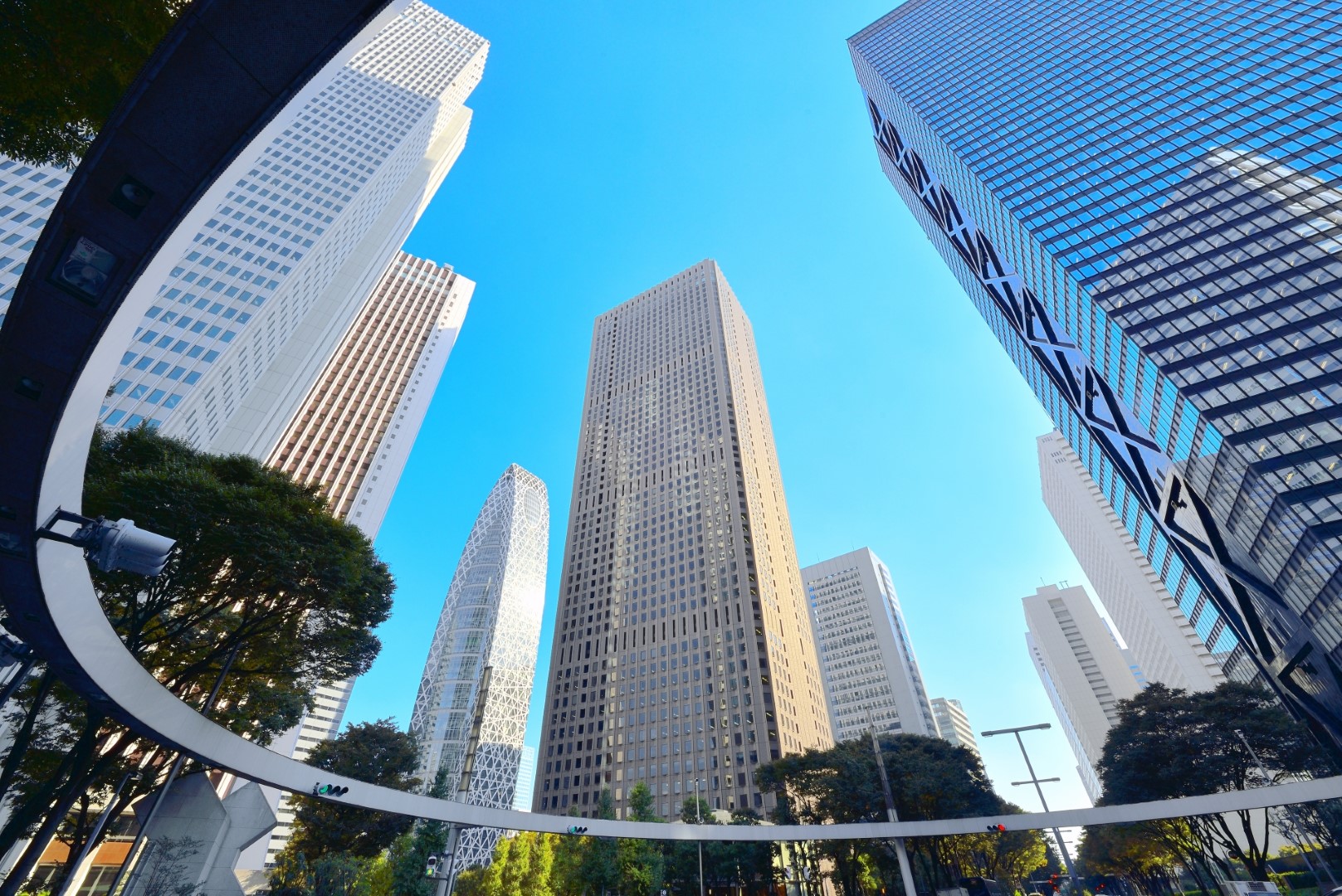 Tokyo's administrative center is a business and commercial hub with upmarket high-rise residences on its West side and suburbs to the north.
Shibuya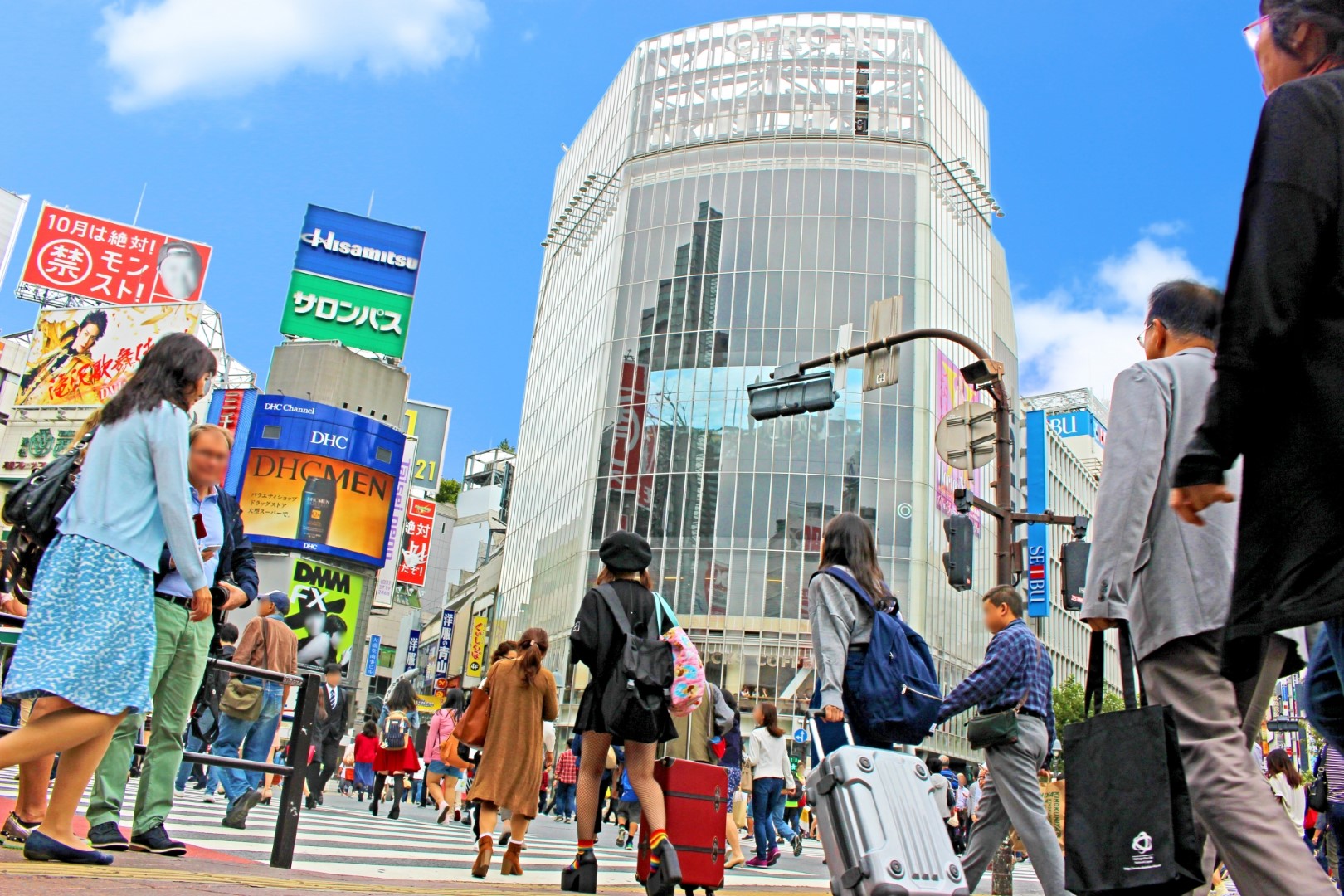 Shibuya is a busy commercial district with a thriving entertainment and nightclub scene, known for its many domestic and international fashion boutiques.
Daikanyama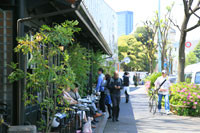 Located only a station away from the bustling center of Shibuya and in close proximity to Ebisu, Daikanyama is easily accessible, rich in green areas, and home to an impressive number of upscale boutiques, first rate cafes and restaurants. In addition, Daikanyama is a convenient area in which to live, especially for foreign nationals, because there are stores that offer ingredients and organic foods which are not commonly available in Japanese supermarkets. There aren't many high-rise residences, but more single or two-story housing options are available.
Yoyogi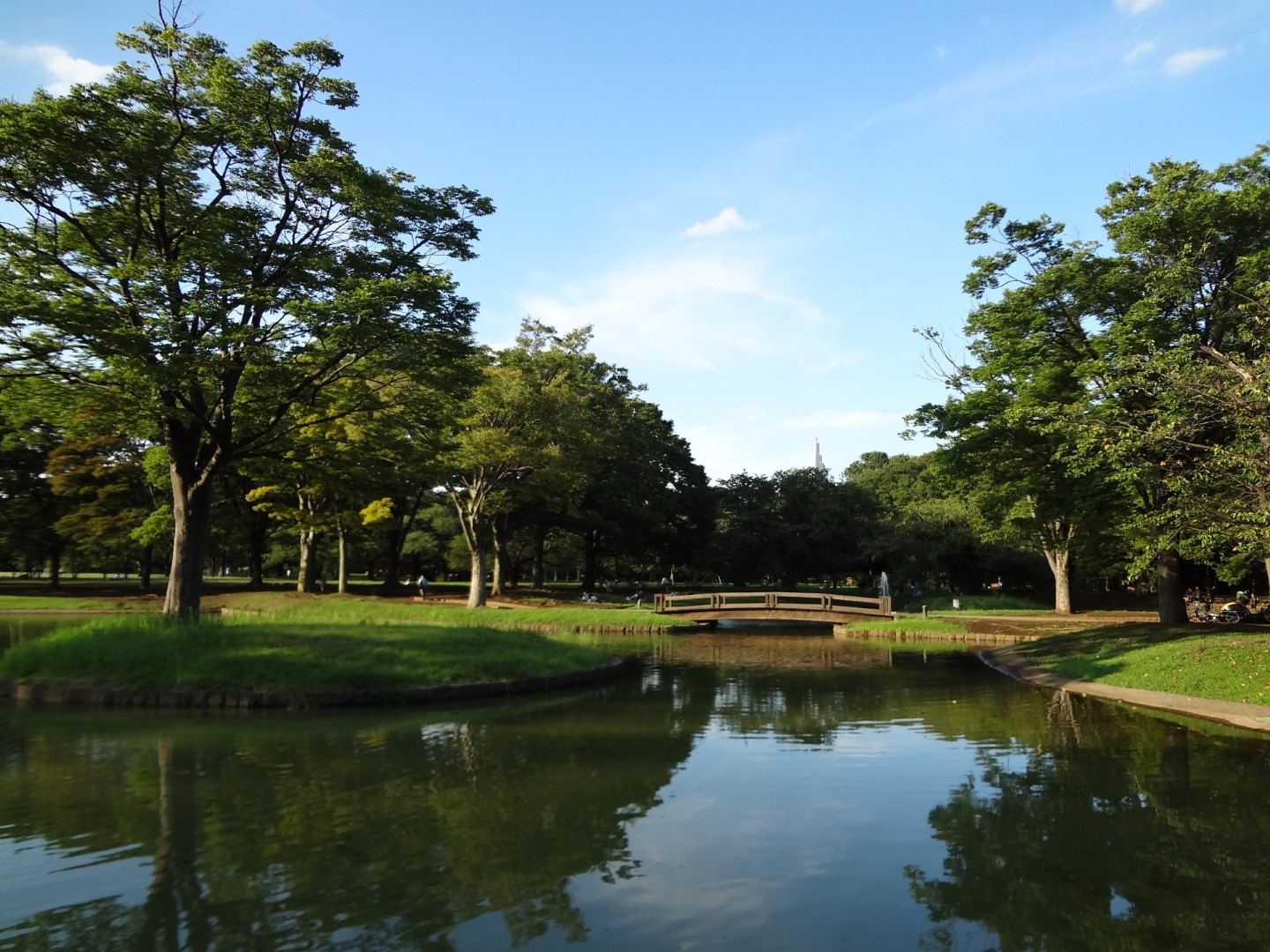 Yoyogi refers to the areas around Yoyogi-uehara, Yoyogi-koen and JR Yoyogi stations on either side of the large Yoyogi Park. Yoyogi is a green oasis in Tokyo with good access to central areas.
Meguro
Meguro Ward's Jiyugaoka area is a peaceful, upmarket suburb, while Nakameguro is a haven for creative types with many vintage shops.
Akasaka
A popular international area with commercial complexes (including Tokyo Midtown and its many fashion boutiques), embassies and a vibrant nightlife. The area is close to Roppongi but has a more refined atmosphere.
Yamate (Yokohama)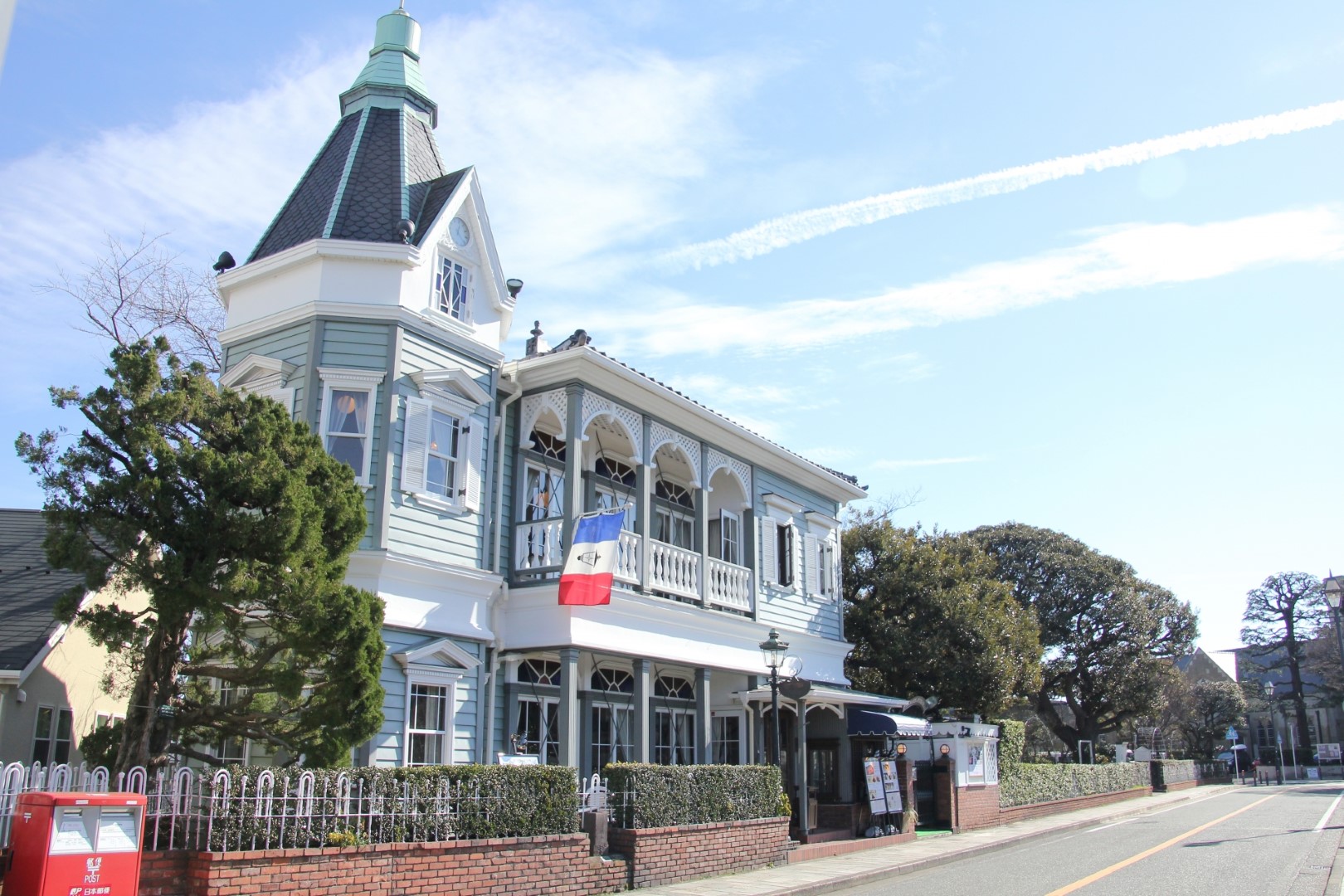 Also known as "The Bluff", this area of Naka-ku is a historical foreign neighbourhood whose western-style housing lends it a distinct atmosphere.
Other areas
North-west Tokyo
Nakano, Nerima and Suginami wards are largely suburban areas where rent is cheaper than central Tokyo, though transport access is good and neighborhoods are generally quiet.
South-west Tokyo
Setagaya ward is the most populous in Tokyo, and areas such as Shimokitazawa and Sangenjaya are popular neighborhoods.
East Tokyo
The low-lying regions on Tokyo's east side, including Bunkyo, Taito and Sumida wards are traditional craftsmen towns, and increasingly popular for their residential areas with small independent stores.
Tama
The Tama region to the west of the 23 wards includes the cities of Musashino (which includes the trendy Kichijoji area) and Tachikawa, which have a mix of urban and suburban neighborhoods.