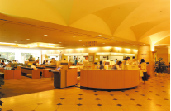 Medical facilities in Japan can be broadly divided into clinics and hospitals. Clinics may be run by a single doctor and offer only one specialization, or may have several doctors covering various specializations. Hospitals are larger institutions that usually have a wide range of specializations, deal with emergencies, and have in-patient facilities. Officially, a medical facility with fewer than 20 beds is a clinic, while facilities with at least 20 beds are hospitals. For non-emergency cases, clinics should be the first port of call when sick or injured. Though most clinics do not require appointments, they are available at some and necessary at others so it is best to confirm in advance. Dentists are generally appointment-only. When visiting an appointment-only facility for the first time, you should call and explain the situation, and communicate your symptoms and your availability. Many hospitals/clinics have a special number for appointments, and some even have an online appointment form.
If a clinic is unable to treat you, you may be referred to another facility. The kinds of referral letter differ depending on the clinic/hospital involved, but a fee of ¥750-¥2000 will be charged for the referral. This fee also applies if you request a referral to get a second opinion from another facility. If you visit a large hospital for a non-emergency case without a letter of referral, you will be charged a substantial first-time consultation fee. From April 2016, this fee will be set at ¥5000, while subsequent visits will cost ¥2500. As such, it is best to visit a clinic for non-emergency cases.
Medical Reference Hotlines
Here are some useful organizations to help you search for medical assistance.
A multi-lingual telephone service that provides information on medical care and hospitals in Japan that offer English-speaking staff.
03-5285-8088
9:00am-5:00pm, Mon-Fri
Himawari is a search engine for hospitals and clinics in Tokyo. You can also call to search for hospitals that have English speaking staff.
03-5285-8181
9:00am-8:00pm, Daily
This is a non-profit 24 hour nationwide emergency assistance service to foreign residents in Japan. They provide advice on anything from a simple question, to an emergency situation.
0570-000-911
24 hrs., Daily
TELL offers anonymous telephone counseling in English for the international and Japanese community. Trained telephone counselors provide support on a wide range of issues.
03-5774-0992
9:00am-11:00pm, Daily
Licensed/certified team of psychologists, psychiatrists, social workers and counselors provide confidential counseling. Other services include exceptional parenting, child protection, workshops and EAP programs.
03-4550-1146
Mon – Fri, 10:00am–3:00pm
A primary resource for finding qualified psychotherapists and counselors serving the international community in Japan. Wide range of services in multiple languages.