Japanese preventive vaccination law states that parents have a duty to make efforts towards having their children immunized against certain diseases. In Japan, immunizations are classified into two major types,
Teiki-Yobou-Sesshu (

定期予防接種

,

routine immunizations

)
and
Nin-i-Yobou-Sesshu (

任意予防接種

,

optional immunizations

)
. Most local governments provide routine immunizations free of charge and in some cases immunization slips will be sent to your house when your child turns the respective eligible ages. Since these immunization slips are sent according to resident registration data, be sure to let your local government know of new family births or changes of address.
Optional immunizations, unlike recommended immunizations, are not free and charges may differ depending on the hospital or clinic.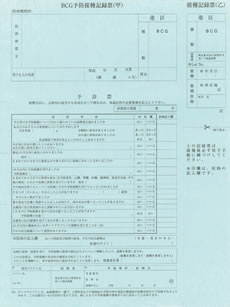 Your municipal office will automatically send you one of these forms as soon as the vaccination season begins. They may be available in English as well, but if only a Japanese version is sent, please consult with your municipal office, a hospital or Japanese speaking friend.
Both BCG and Japanese encephalitis are Asia specific immunizations, and are not required in many western countries. Parents should be aware that children who receive BCG immunization may test positive for TB due to antibodies for a number of years after immunization.
Name of immunization

Doses

Minimum age

Notes

Routine Immunizations (teiki yobou sesshu)


Hib
4
2 months
Pneumococcus
4
2 months
DPT-IPV (diptheria pertussis tetanus & inactivated polio vaccine
4
3 months
BCG
1
From birth
Usually taken between 5 and 8 months
MR (Measles/Rubella)
2
1 year
Chicken pox
2
1 year
Japanese encephalitis
4
6 months
Usual course begins at age 3
HPV
3
11 (Grade 1 of Jr. High School)
Hepatitis B (from October 2016)
3
From birth
Usual course begins at 2 months
Optional Immunizations (nin'i yobou sesshu)


Rotavirus
2 or 3
2 months
Mumps
2
1 year
Can be taken together with MR and Chicken Pox
Influenza
1/year
6 months
Recommended to be taken annually in autumn
Hepatitis A
3
1 year
Meningococcus
1
2 years
It is recommended to compare the immunization requirements and schedule in your home country and in Japan, and decide which immunization to receive and when.