About TECC
Tokyo Employment Consultation Center (TECC), is a public service sponsored by the Japanese government (Cabinet Office and Ministry of Health, Labor and Welfare). It provides advice regarding employment rules and labor management in Japan to help global companies and startups, so they can smoothly set up business enterprises. The center was established in January 2015, under the Act on National Strategic Special Zones*.
At TECC, attorneys with knowledge of labor-related laws and social insurance can offer legal advice and concrete legal supports to business owners, human resource managers, etc.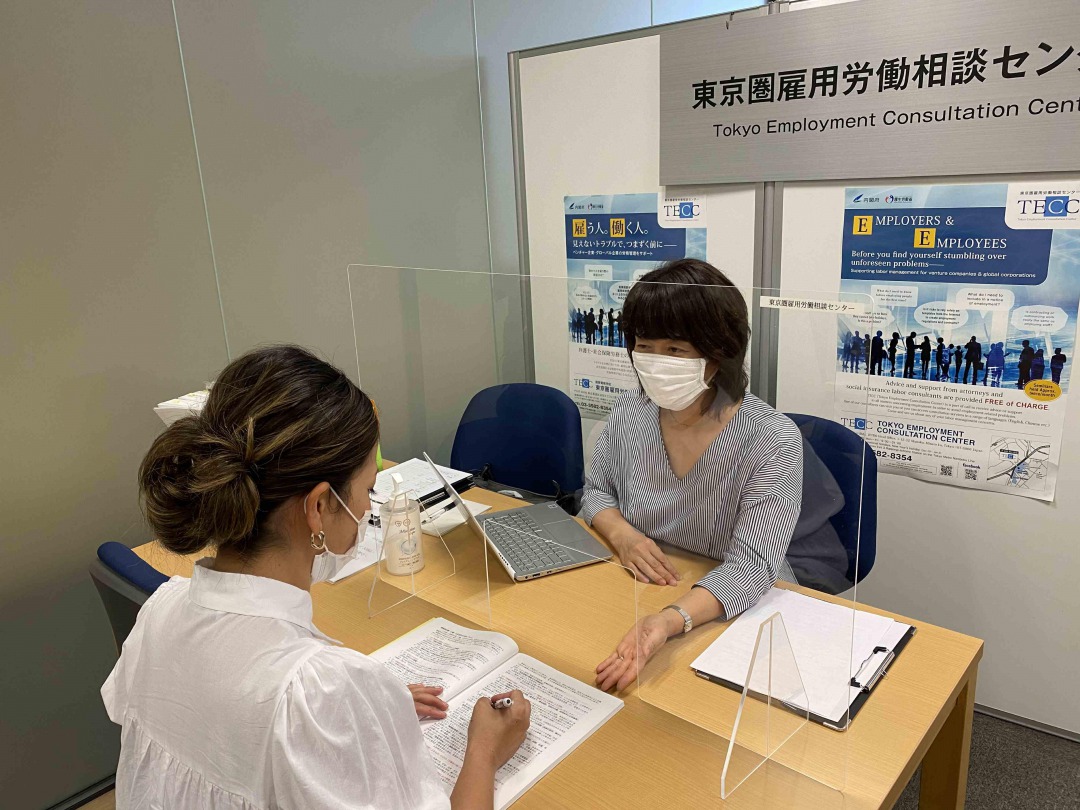 Global corporations tend to focus on developing their business and do not pay enough attention to the preparation of systems that deal with employment issues. Some simply adapt employment rules from their own country, which can cause issues between employers and employees. For example, dismissal law in Japan is very strict. Employers cannot dismiss people without following Japan's value judgement criteria, such as "objectively reasonable grounds" and "social acceptability grounds".
In order to prevent issues, TECC's attorneys not only provide advice at our office, but can also visit company premises. They will ensure that your employment rules and offer of employment letters are suited to your own situation. Their advice is given free of charge.
* National Strategic Special Zones in the Tokyo area: Tokyo; Kanagawa; Chiba and Narita cities in Chiba.
National Strategic Special Zones are an initiative set up to establish brand-new economic zones with business-friendly conditions by boldly promoting deregulation. This initiative is one of the key policies of the Japan Revitalization Strategy, which aims to enhance Japan's international competitiveness by breaking traditional bedrock regulations.
TECC's Services
TECC's services are available to corporations who are currently operating a business or are looking to start up a business in the Tokyo area*. Both employers and employees are welcome.
*"The Tokyo area" refers to all of Tokyo and Kanagawa, and Chiba and Narita cities in Chiba prefecture.
(the so-called "Tokyo Metropolitan National Strategic Special Zone")
TECC is a place to learn and prevent issues from occurring. Experienced attorneys are happy to provide advice on employment rules and regulations, but cannot deal with issues that have already occurred.
Advisory services
Labor Contracts
Employment rules, and notification documents, etc.
Working conditions (Working hours, Wages, Overtime Work, calculation of Working Hours, Termination of Labor Relationship, Retirement, etc.)
Social security, labor insurance, incentive compensation
Compliance with labor laws, harassment, mental health, etc.
Examples of major inquiries:
Documentation checks, including "Notice of employment", "Employment agreement", etc.
The list of necessary documents when hiring staff
Legal points to note with respect to contracts in Japan
Contact to TECC
・Via contact form on Webpage
-Please contact from the contact form at the bottom of the web page
・E-mail / Phone
-Inquiries welcome during business hours. (Office Hours: 9am-9pm)
-If you have any documents you want attorneys to check, please send PDF files.
・Online consultation
-You can talk about your issue with our attorneys online. We will try to help you solve your problem or make good progress towards it.
*As reservation is required, please send email to the info@t-ecc.jp using the following form.
■Name:
■Company name:
■Desired date and time:
■Inquiries:
・Visit the TECC to get advice *NO reservation required
-TECC's office is located in Akasaka and open Monday to Friday. Contact in advance to get availability information for English-speaking advisors.
・Attorney will visit your office for counseling *reservation required
・Seminars by renowned lecturers.
-Regular seminars are held in the Tokyo area on employment-related issues.
03-3582-8354
7F ARK Mori Bldg. JETRO Head Office, 1-12-32 Akasaka, Minato-ku
1 min. from Exit 3 Roppongi-itchome Sta.
9:00am-9:00pm
Holidays

: Weekends, National Holidays, Dec 29th-Jan 3rd
Website: Tokyo Employment Consultation Center
Tokyo Employment Consultation Center