Over the past few years the number of bouldering gyms in the heart of Tokyo has increased, along with the number of people discovering a great sport they can do on the way home from work.
As you only need the right shoes for bouldering, unlike sports climbing which requires rope and harness, it's easy to get started. And unlike the high walls you encounter with climbing, bouldering walls are usually much shorter, with a height of around 2 to 4 meters making it a muss less daunting affair. A crash pad is also there to break your fall.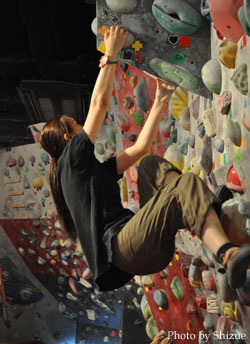 Bouldering can be as difficult or as easy as you want it to be. Start off with easier climbs and work your way up to vertical inclines that require complex problem solving to navigate. The varying degrees of difficulty mean that for total beginners and more experienced athletes, bouldering has something to offer.
All you need to start bouldering:
Comfortable clothes, such as a t-shirt or jersey.
Shorts are recommended.
Climbing shoes
Chalk (for grip)
Short fingernails
Most gyms will rent shoes and chalk, for around 300 Yen and 200 Yen respectively. Some gyms will provide chalk for free.
Bouldering gyms use colored tape to indicate routes. Simply follow the same color, or the same shape, from start to finish. When you begin your climb, place both hands on the first hold, then follow the course until you reach the final hold. Once you place both hands on this hold, you have completed the course and can begin your descent.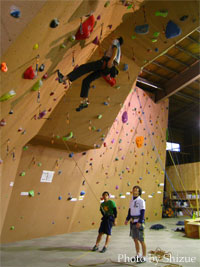 The color, shape or number on the sticker indicates the degree of difficulty. There is also a system of holds designated hands-only, meaning you must place your hands on holds with the same color, or same shape sticker, but can place your feet anywhere. For grips marked both hands and feet, you have to put your feet on the corresponding color or shape.
The degree of difficulty and the system varies from gym to gym, so please confirm with the gym staff or fellow boulderers.
Bouldering costs
Registration fee (one time only) 1,500-2,000 Yen
Usage fee: 1,200-2,000 Yen (depends upon day and time)
(Student discount sometimes offered. Please check with the gym.)
Bouldering gyms
There are more than 30 bouldering gyms in the Tokyo metropolitan area, or you can enjoy it in more open places like Miyashita park in Shibuya.
A new facility opened in September 2013. One of the largest walls in Tokyo with a size and variety of 4mX40m, 85-135 degrees. Unlimited hours within opening hours. Shoes rental available in size 21cm-30cm. Socks required for those renting shoes. Use of powder chalk not allowed (liquid chalk only).