On Friday 25th November, Expat's Guide staff attended a disaster prevention seminar at Taito Kumin Kaikan in Asakusa. The seminar included a lecture and a panel discussion, with an aim to increase awareness of both the dangers faced in the area in the event of an earthquake, and of relief efforts to support both tourists and residents affected by a large-scale disaster.
In the lecture by Dr. Takaaki Kato, associate professor at the University of Tokyo's International Center for Urban Safety Engineering, he discussed the effects that an earthquake measuring an "upper-6" on the Japanese seismic intensity scale would have on the Asakusa area. Asakusa, one of the most popular tourist areas in Tokyo, is low-lying and bordered by rivers, making it particularly geographically susceptible. Many of the buildings in the area were built prior to modern construction regulations coming into force, and it's possible that as many as 55% of wooden structures built before 1970 would be destroyed should an upper-6 earthquake strike.
Response Measures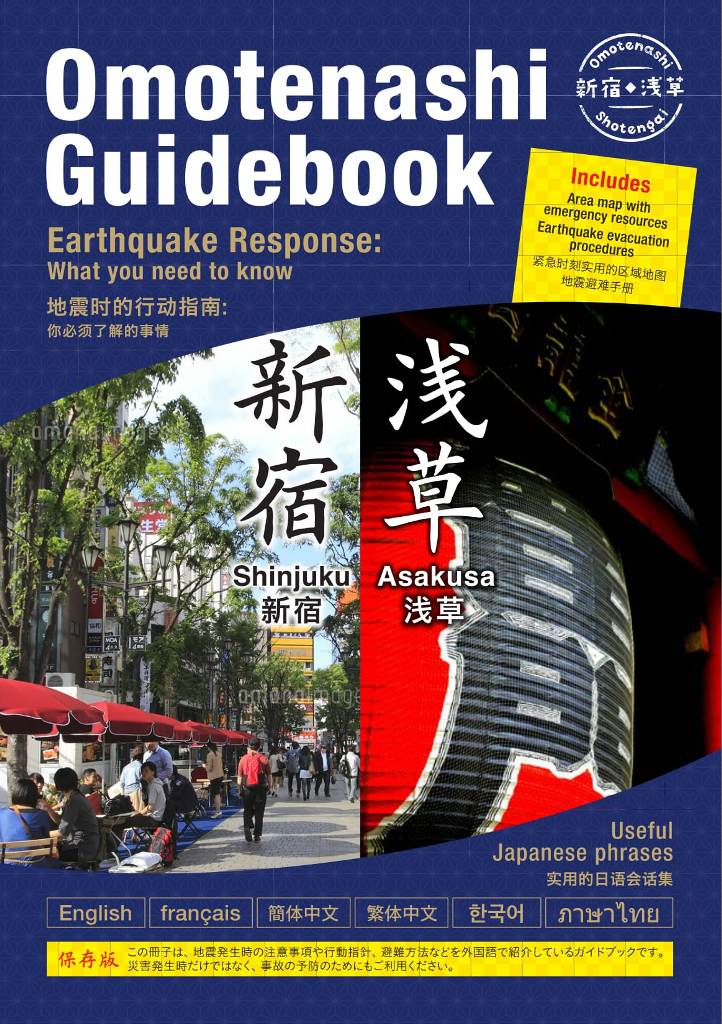 Community and trade associations are common in Japan, and these groups work together to share information and plan responses to natural disasters. The shotengai (shopping district) associations of Asakusa and Shinjuku have cooperated to produce a booklet, Omotenashi Guidebook, which provides information in English and Chinese about how to act in the event of an earthquake. It has maps showing evacuation sites and temporary shelters, and also includes a set of useful phrases in six languages to assist in communication.
In Asakusa specifically, Sensoji Temple – one of the most popular tourist sites in Tokyo – is designated a temporary shelter that can house several hundred people. Those unable to immediately return home can be housed in both the temple's main hall and its five-storied pagoda, where food and blankets will be provided. Additionally, unlike most public toilets, the facilities on the temple grounds have access to an underground water reservoir, which allows them to be used even when mains power and water are not working.
If you want to know more about disaster preparedness, you can find our resources here.