Far enough away from central Tokyo to escape the shadow of endless sky-rises, but well-positioned on the Chuo Line for a relatively quick commute into the business district– Kichijoji floats somewhere on the border between big-city Tokyo and quiet suburb. With its abundance of chic cafes, live houses, and great local eateries, along with its proximity to the famous Inokashira Park, it's no wonder that Kichijoji is often ranked at the top of the list of the best places to live in the country.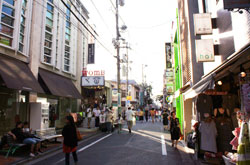 While bustling with activity every day of the week, the city really comes alive on weekends, particularly Sunday afternoons, when shoppers flock to the spacious boulevards spanning stylish boutiques and quaint coffee shops. The shoppers who gather here are mostly twenty-somethings– so while Kichijoji has a wide selection of brand-name boutiques, you won't find the same high class fashion labels that you might in downtown Ginza or Aoyama. Look here trendy at a reasonable price tag.
Getting to Kichijoji
The following lines stop at the Kichijoji Statin:
JR Chuo Rapid Service Line
(the "Ome-tokkai" or "Chuo-tokkai" does not stop at Kichijoji)
JR Sobu Line
Keio Inokashira Line
(terminal)
There are many bus services as well.

Kichijoji is surrounded by a number of universities, making it the go-to hang out for students who come for shopping, cafe-hopping, and a laid back nightlife. Chill and hip cafes seem to fill just about every corner of the city– everything from the ethnically-inspired to purely novel. Try the hammock cafe, where rope entwined seats sway softly with the every movement of their inhabitants.
Even after the boutiques have closed their doors and the crowds begin to wane, this town refuses to settle down. While quite tame in comparison to Shinjuku or Shibuya, the Kichijoji nightlife offers a more laid-back option for those who want to stay out late into the night. Kichijoji is well-known for its music subculture; jazz cafes and live houses can be found scattered around town. In addition to the numerous local bars and pubs on the main streets, small local izakayas can be found down narrow alleyways and side-streets. And if a night of drinking has reactivated your appetite, join the locals at one of the town's wide selection of great ramen shops for a late-night meal.
Inokashira Park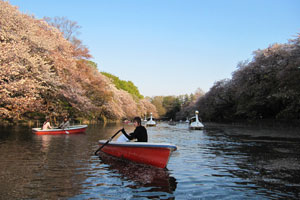 A little more than a stone's throw away from the main street and you will find Inokashira Park, a spacious wooded area surrounding a peaceful lake. After a few steps into the park, the towering trees will obstruct your view of the nearby buildings, and you will forget that you are still in the suburbs. Come when the cherry blossoms are in full bloom and you will see a sight rare to Tokyo– the majestic Sakura with flower-laden limbs stretching out over the shores of a lake as still as glass.