Kamakura (鎌倉) is a coastal town in Kanagawa Prefecture, which used to be the capital in 12th and 13th century Japan. It's about an hour driving south of Tokyo. It has a whopping 65 temples and 19 shrines, along with long beach and charming pedestrian shopping street, where you can find lacquered woodcarvings, Kamakura's best known product.
For a drive down to Kamakura, your GPS would show you the shortest way from Tokyo. It usually takes the "Asahina" Exit on Yoko-Yoko Free way. The way we would recommend, however, would be taking the next exit "Zushi". There is usually less traffic and you can drive along the coast line, where you can get a beautiful view of Mt.Fuji behind the ocean as well.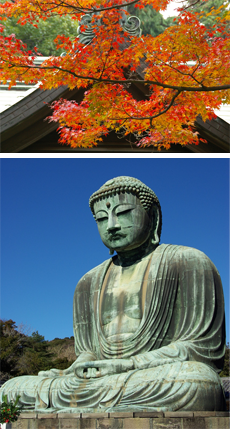 To list only a few of the great places to visit in Kamakura:
Tsurugaoka Hachimangu
Kamakura's most important shrine;
Komachi-Dori
A charming pedestrian shopping street located by Kamakura Train Station;
The Great Buddha of Kamakura (Kamakura Daibutsu)
a bronze statue of Amida Buddha in Kotokuin Temple, with a height of 13.35 meters.
On the way back from Kamakura, There is a small cozy Onsen (温泉, hot spring) by the coast way is called Inamuragasaki Onsen (稲村ヶ崎温泉, Inamuragasaki Hot Spring). The facility includes a main bath, an outdoor bath, a cold bath, and a sauna. Shampoo, conditioner, body soap, and large parking space is available. It is a lovely way to spend sometime after a busy day of sightseeing in Kamakura. Please note that under 18 years of age are not allowed in. The restaurant nextdoor offers great food and an ocean-view.
1-16-13 Inamuragasaki, Kamakura
For anything about driving or car matter, contact Auto Direct. They are a "One Stop Shop" for all of your automotive requirements, providing all services in English.
03-5573-8776
/
Shige@autodirect.jp