One of the largest secondhand book markets in the world is centered on the intersection of Yasukuni-Dori and Hakusan-Dori in the Kanda district of Tokyo. Known as Tokyo's book town, Jimbocho (神保町) is home to a concentration of over 170 bookshops, publishing houses, and literary societies.
The book market at Jimbocho is best accessed from Jimbocho subway station, Kudanshita subway station, Shin-Ochanomizu/Ogawamachi/Awajicho subway stations (connected underground), or JR Suidobashi station.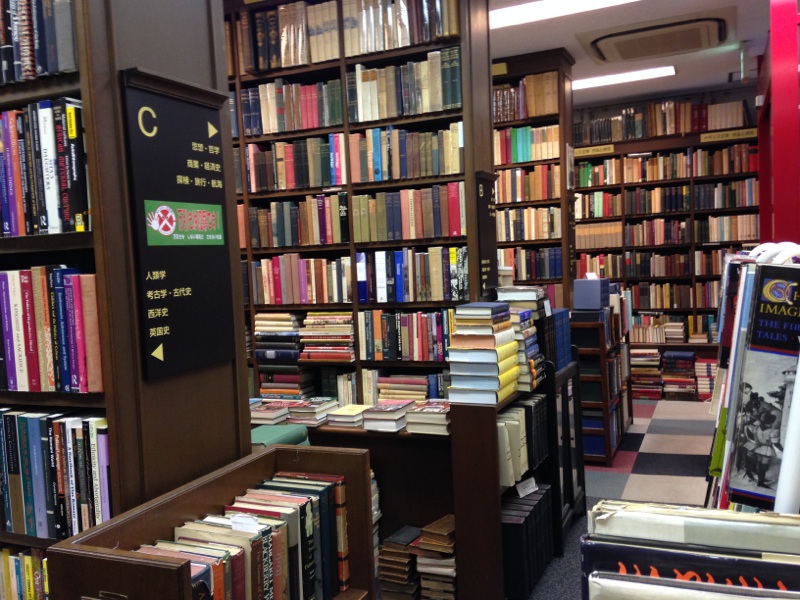 The majority of book shops on Yasukuni-dori are noticeably located on the south side only, which is said to protect books from damage by sun exposure. Everything from the latest published volumes, to academic collections, art books, old magazines, and rare and antique books can be found here, if you enjoy the search. You can spend hours browsing even if you cannot read Japanese.
But what about the collection of foreign books in Jimbocho?
For those looking for non-Japanese books, yousho (洋書, foreign books), the following book shops are recommended:
Opened in 1902 and located on the 2nd floor of Book House Jimbocho (a fun bookstore for children with comfortable seating and large stuffed animals), Kitazawa Bookstore specializes in English books and stocks fascinating volumes covering a wide variety of topics, many academic. Paperbacks, as well as antique books such as books published during the English Middle Ages, can also be found on the shelves.

2-5 Jimbocho Kanda, Chiyoda-ku
Weekdays 11:00~18:30, Saturday 12:00~17:30
Closed

: Sundays & Holidays
Website: Kitazawa Bookstore (北沢書店)
Kitazawa Bookstore (北沢書店)
An old bookstore that stocks Japanese and foreign language books on fine arts, archaeology, and society, among others. With a large collection of manuscripts, woodblock-printed books, and a second floor dedicated to English and foreign-language books organized by shelf labels such as "Classics," or "Mountaineering," an interesting find is sure to be found here.

1-7 Jimbocho Kanda, Chiyoda-ku
Monday through Saturday 10:00~18:30, Holidays 10:30~18:00
Closed

: Sundays
Website: The Isseido Booksellers (一誠堂書店)
The Isseido Booksellers (一誠堂書店)
Specializing in Italian books, Italia Shobo was the first bookstore in Japan to offer a selection of books in languages such as Italian, Spanish, and Portuguese when it opened in 1958. In 1982, the shop published the first Italian-Japanese encyclopedia.

2-23 Jimbocho Kanda, Chiyoda-ku
Weekdays: 10:00~18:00
Closed

: Weekends and Holidays
Website: Italia Shobo (イタリア書房)
The Jimbocho location marks the flagship store of what is now a nationwide chain, with at least 14 large stores located in Tokyo alone. The 5th floor houses a large selection of recent books, novels, and magazines in English.

1-1 Jimbocho Kanda, Chiyoda-ku
10:00~20:00, with exception during New Year's holiday
Website: Books Sanseido (三省堂書店 神保町本店)
Books Sanseido (三省堂書店 神保町本店)