Izu Peninsula is a resort area famous for hot springs, coastlines, and scenic views. The eastern side is home to the cities of Atami, Ito and Shimoda. Its proximity and train connection to Tokyo makes it a popular weekend getaway. In addition, Mount Fuji is visible from the peninsula's western coast.
While the peninsula is known for its hot springs, the town of Atami is especially special, as it sits on top of a geothermal well. Since it's in such a natural state, it is common to see geysers around the area from the ground pressure.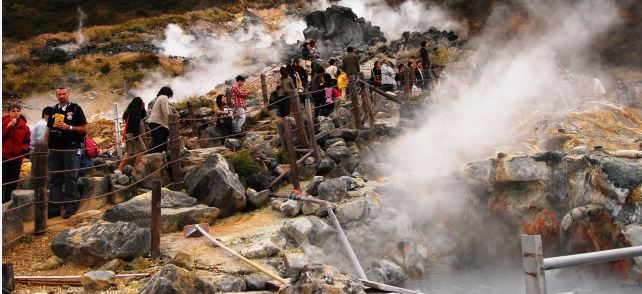 The city of Shimoda located in the south has many accessible beaches that are great for swimming and offers beautiful views of their cliffs.
Kawazu city, located in the middle of Izu, is a mountainous area and is a popluar spot for hikers and nature lovers. Of the many trails, one leads to Nanadaru or 'seven waterfalls', which became famous due to 'The Dancer of Izu', a story written by Nobel Laureate Yasunari Kabawata.
Each region of Japan has its specialties, and being so close to the ocean, Izu's specialty is seafood, which can be enjoyed in a variety of ways.
From Tokyo to Izu
Izu Craile Train
A resort train covered by JR Rail Pass, it is one of the ways to get to the peninsula while enjoying the view of the coastline. This train generally runs between Odawara and Izukyu Shimoda on Fridays and weekends.
With its charming design and seats facing the sea, you can enjoy the stunning scenery in the first car, and there is a bar and lounge in the second car.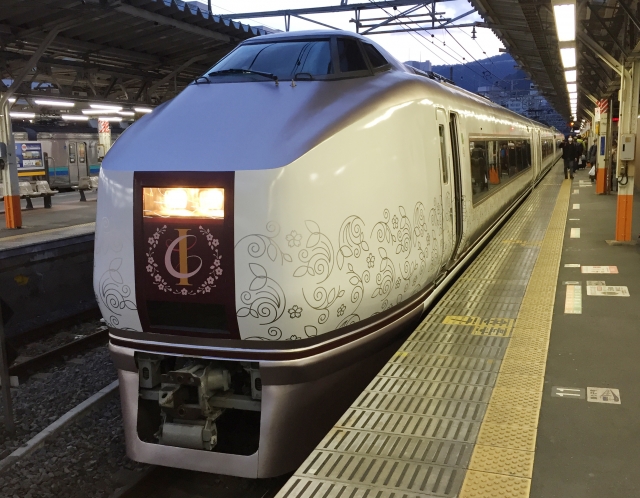 Odoriko and Local Trains
You can take limited express trains, Odoriko or the Super View Odoriko, which are limited express trains from Tokyo Station. You can also take local trains along the JR Tokaido Line. The cost is around 6500 yen one way but there may be cheaper alternatives depending on where you get off.
Access via local trains are also possible along the JR Tokaido Line. From Tokyo to Atami one way takes about 1hr 40min and costs 1940 yen. To Mishima it takes about 2 hours, and usually requires a transfer of trains at Atami Station.
If you start from Shinjuku, you could save a little by taking the Odakyu Railways from Shinjuku to Odawara and transfer on to the JR Tokaido Line. While it takes more than two hours to Atami, the cost is only 1290 yen.