Situated one hour from Akita Airport by car, a trip to Misato-cho (美郷町), with its expanse of fields and green mountains that stretch out as far as the eye can see, is enough to release anyone from the oppression of the city.
More than anything else, Misato-cho is famous for its spring water. This nutritious, pure spring water is used in place of tap water for drinking, farming, and all other aspects of daily life. Amidst the springs that dot the landscape of Misato-cho, Niteko Spring (ニテコ湧水) is said to be the most famous in the area of Rokugo-Yusuigun (六郷湧水群). After water from the spring here was offered to the Meiji Emperor when he visited the area, Niteko spring water has also been referred to as Gozensui – the royal waters. Also, between the months of April and May, the purple wisteria bloom around the Fuji Spring and it is a common sight to see locals of this area washing vegetables and rice in the water there.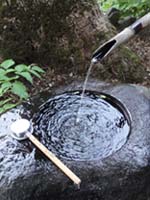 Even on the mid-summer day that we visited, with the temperature reaching over 30 degrees, the air around the well was cool and comfortable from the spring water. The splendid stature of the historical buildings, the old trees, a small shrine, and the people making a visit to draw water from the well were all woven into the tranquil scenery.
The clear water here yields not only a rich bounty of crops, but also sake brewed with rice and spring water from the area plays a large part in supporting the economy of Misato-cho. At the Takahashi Brewery (Japanese only), we tried some local brands such as Okushimizu whose delicious taste and drinkability set it apart from other sakes.
In addition to spring water, Misato-cho is also famous for its lavender park and, from the end of June to the beginning of July, the area is crowded with people coming to view the lavender in full bloom. A light fragrance fills the senses as one approaches the fields of purple – the low lying flowers lining the gentle, rolling hills and stretching out of sight.
Satisfied after our day of bountiful nature and famous wells, we stopped for a dinner of tuna from the Sea of Japan and oysters dishes unique to the area at a restaurant called Genbatei located in the Meisui Market, before leaving Misato-cho behind us.
Misatocho Town Tourist Association
Approx. 3hr30min by JR Shinkansen Komachi from Tokyo Sta. to Omagari Sta.
Misato-cho is about 15 min away bay car from Omagari Sta.