At this festival the unique "Yosakoi Naruko" dance is performed to the clapping rhythm of the Naruko (a wooden percussion instrument). On the evening of the 9th, there is a big fireworks competition at the Kagamigawa riverside and the main event runs on the 10th and 11th. The 12th sees the final evening festival and the national dance competition, at which more than 150 teams, consisting of about 15,000 contestants perform in front of an audience that is said to reach 1 million every year.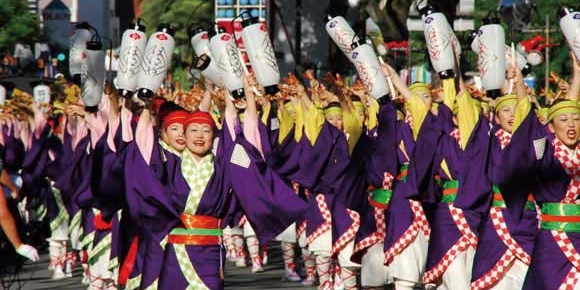 Kōchi city center, Kochi prefecture
Access from Tokyo
80 min from Haneda Airport (Tokyo) to Kochi Ryoma Airport. From the airport, 35 min by bus to JR Kochi Sta.
August 9 - 12 every year
Website: Kōchi Yosakoi Festival

(Yosakoi Official Website, in Japanese only)
Website: Yosakoi Festival in Kōchi

(in English)