The Kurama Fire Festival (鞍馬の火祭) takes place every year on the 22nd of October at Yuki Shrine, in Kyoto. Starting at 6pm, watch fires called Kagaribi (篝火) are ignited in front of each household in the village and, while the sounds of taiko drums ring out, villagers parade through the streets, carrying pine torches called Taimatsu (松明), and proclaiming the arrival of the festival. Children proceed first, carrying smaller Taimatsu, which weigh around 30kg, and are followed by adults carrying 100kg Taimatsu. From around 8pm, people carrying many of the larger Taimatsu proceed toward Kurama Temple, where they gather the burning torches at the stone steps in front of the gate. Following this, the Mikoshi is carried from Yuki Shrine into the village. After a Kagura performance is given as an offering to the gods, the Mikoshi is returned back to the shrine and, around 12am, the festival finishes. Children and adults dressed in traditional clothing making their way through the lingering smoke to the sound of taiko drums, all while the sparks from the flames dance around, make the Kurama Fire Festival a truly intense, memorable experience.
Note: Due to the narrow streets where the Fire Festival will take place, and around Yuki Shrine, the area can only accommodate a limited number of people. Tickets on the Eizan Line bound for Kurama will no longer be sold after the maximum limit of people has been reached. The roads around the area will be closed to car traffic.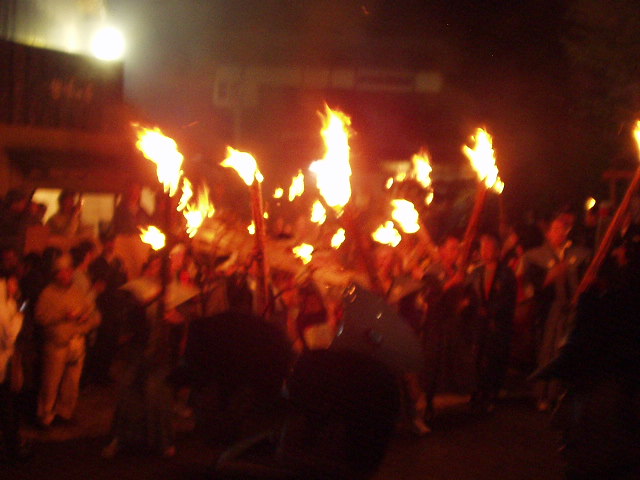 (original photo by justgrimes; CC BY-SA 2.0)
1073 Kuramahonmachi, Sakyo Ward, Kyoto, Kyoto prefecture
Access from Tokyo
Approx. 2hr20min from Tokyo Sta. to Kyoto Sta.
Access to Yuki Shrine: From Kyoto Sta. take the city bus to "Demachiyanagi-ekimae" bus stop. From Demachiyanagi Sta. take the Eizan Line to Kurama Sta. Yuki Shrine is about 10 minutes away on foot from Kurama Sta.
October 22 every year
Website: Yuki Shrine

(shrine official website, in Japanese only)
Website: Welcome to Kyoto

(KYOTO Prefectural Government Tourism Division)