This parade centers around floats, lavishly decorated with flower arrangements, and the accompanying dancers, dancing to Hanagasa Ondo folk songs, with their trademark red flower hats in hand. Over the three days of the festival, more than 1 million spectators come to watch the parade, making it one of the greatest festivals in Japan. The main event begins at sunset, adding the special notion of a romantic summer night.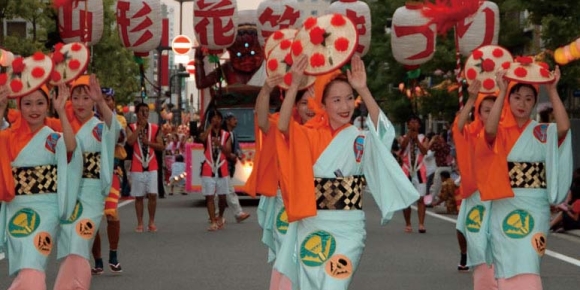 Yamagata City Center (Tokamachi, Honcho, Nanukamachi-dori~Bunshokan), Yamagata prefecture
Access from Tokyo
By Air: 1 hour from Haneda Airport (Tokyo) to Yamagata Airport (Yamagata). From Yamagata Airport, 30 min to JR Yamagata Sta. by car (shared taxi).
By Train: 3 hours by the Tohoku Shinkansen (Tsubasa) from Tokyo Sta. to Yamagata Sta.
August 5-7, 2015
The parade starts around 6:00pm and ends around 9:30pm. Other events and stalls are available from earlier hours.
Website: Yamagata Hanagasa Festival

(in English)
Yamagata Hanagasa Festival