Counted as one of the three largest fire festivals in Japan, this powerful and magnificent festival lights up the late fall season. Started to mourn the lost soldiers of Sukagawa Castle, which fell over 400 years ago, the festival consists of giant Taimatsu (torch) reaching 10 meters in height and up to 3 tons in weight carried at the head of a procession of samurai and royal courtiers which parades to Mt. Gorosan. The highpoint comes after the sun goes down, when people climb the giant Taimatsu without the use of ladders, to ignite the "sacred fire" at the top by hand. After the giant Taimatsu is lit, the 30 other Taimatsu are ignited one after another, until the surrounding area literally becomes a sea of fire.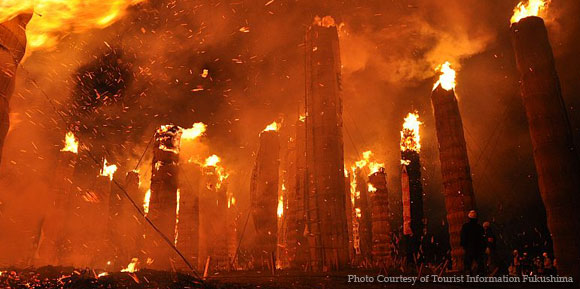 Sukagawa City center and Mt. Gorosan, Fukushima Prefecture
Access from Tokyo
From central Tokyo, take the JR Saikyo Line to Omiya Sta. and change to the Tohoku Shinkansen (Yamabiko). Get off at Shinshirakawa Sta. and transfer to the JR Tohoku Line to Sukagawa Sta. The festival venue is a short walk from the station.
November 14, 2015
(the torches will be lit at 6:30pm)
Website: Sukagawa Taimatsu Akashi

(in Japanese)