When you live in Japan you see that for half of the year in most places, it's a rainy country — beginning with the fall of the cherry blossoms, then the thunderstorms in May, the monsoons in June, and the typhoons from July to October. Furthermore, if you include the snowfall in winter, it's a fair amount of precipitation. For the Japanese, who have to live with rain for half the year, to say that they have a long-held hatred for the rain would be a half-truth. Rather, it's a culture with a great dislike of being wet. Behind this thinking lies worries over catching colds and poor hygiene, naturally, yet also a sense of value attached to not being seen soaked to the bone, and not wanting to get nice clothes wet. Of course, some people just simply hate getting wet, but let's look a little bit at the Japanese relationship with rain apparel, and in particular umbrella culture.
Umbrellas are by far the most preferred piece of rain apparel. So much so that on rainy days, people often say that the umbrella flowers are in bloom. It's also said that in one year, the Japanese go through about 130 million umbrellas. If we consider that the population of Japan is around 124 million (as of 2023, including foreign nationals), that means that each person buys more than one umbrella per year. The Japanese, regardless of age or sex, are a people who open an umbrella when it rains; the number of places where it is possible to buy a cheap umbrella in a sudden downpour seems convincing enough. From these 400-500 Yen "otasuke" vinyl umbrellas to the more substantial 'real thing', there's actually a large variety of umbrellas being sold in Japan, which undergo a marked evolution from year to year.
Of these varieties, the collapsible umbrella is one that we can say the vast majority of Japanese walk around with, or keep at the office. These umbrellas have continued to become more and more compact and portable, and while their ease of use has led to their widespread popularity, designers have also been working on improving their durability, their weak point, as well as things such as size. The umbrella itself is around 28cm tall when folded up, and about 70cm expanded. There are large lightweight models that weigh in at around 312g, and also compact ones which are no more than 16cm opened. "Jump" umbrellas feature a button on the handle which you simply have to press in order to expand it fully. Prices range from about 500 Yen for cheap ones, while your average will cost from about 1000 Yen.
In addition to normal umbrellas, that is to say, not collapsible, there are Japanese influenced ones, which have 16, 24 or 32 spokes, as opposed to the standard Western 6 or 8, whose design and strength are very popular. Umbrellas were often used in the past yet have recently come to be set as a fashion item and many people are invested in the color combinations. 1000-Yen umbrellas are the main trend, but customized umbrellas meant for life-time use, which will set you back about 10,000 Yen, are not uncommon. If one or two spokes break they can be repaired, prolonging their use, and so many people have at least one 'good' umbrella.
One of Japan's distinct features is the existence of the vinyl umbrellas, which first appeared in the 1950s. As previously stated, they're cheap and readily available. Compared to regular umbrellas, they certainly leave something to be desired in terms of quality, but it's not that bad that you can use just once and then have to throw away, and as there's a higher risk of your good umbrella being stolen, many people opt to carry around a vinyl one. The tops of the vinyl umbrellas are colorless and transparent so originally weren't something of which you could really ask for much in terms of design. However, these colorless things have gradually begun to take color, with prints and pictures coming to be a standard affair.
---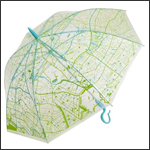 Ça et là's "don't throw away" vinyl umbrella series Evereon
The Evereon series are eco-friendly umbrellas built to change the cycle of production, use and disposal for the sake of convenience. The material used for the spokes is resin instead of metal, and as such is much more flexible and durable, and not only is it hard to break, it is incredibly resilient to rust. Disassembling the parts is a simple task, meaning you can change the vinyl for any pattern or print you like if it gets broken or stained. As such, these are umbrellas out of which you can get continued use. From basic designs like plain, polka dot or trimmed, to Disney collaborations and monthly specials, there is a wealth of prints to choose from, and their distinctive flamingo shaped handle has been designed to be hung anywhere.
Tue-Thu…12:00pm-7:00pm
Fri…12:00pm-8:00pm
Sat… 11:30am-8:00pm
Sun…11:30am-6:30pm
8 min. from Shibuya Sta.
This is very much a country that uses umbrellas, and as such, services and prizes associated with their use have automatically sprung up. In public places, department stores, and food courts, by the entrance to locations where large crowds gather, there will almost definitely be an umbrella bag (vinyl bag) dispenser, and many places also have a place to lock up your umbrella to prevent it being stolen. Free umbrella rental services for guests leaving hotels and Japanese-style inns are widely provided.
As a non-Japanese person living in Japan, the sight of the transparent umbrella blossoms on rainy days is a distinctive feature of life here, as is the sight of hoards of people carrying them on the street, almost homicidally. Umbrella usage may not be so pervasive in our own countries, something Japanese people are well aware of. So much so, in fact, that it's a common stereotype that foreign people walk in the rain without umbrellas, though many Japanese still hold on to the somewhat anachronistic belief that an Englishman always carries one.
Whatever your relationship to umbrellas, while in Japan it's a good idea to get involved in this pervasive aspect of the culture. Being the done thing, carrying an umbrella around with you will get you the tacit approval of a silent train of commuters. Though singing in the rain would perhaps still be frowned upon.