This year's 'plum rains' (tsuyu) are upon us, and across the length and the whole country will be plunged into the long rainy season. This may be a yearly occurrence, but people still get depressed about the days of endless rain, and those who struggle with how to deal with the mold that comes along with the increased humidity. While it's a time of year when nothing seems good, it goes on for a month and a half and no one wants to spend the whole time in a mood dark enough to match the sky. There are those who are sick of the rain and those who don't think much about it, yet we all have to deal with it, as it pours down every street. It seems wise then, to try and have some fun riding it out.
Feeling it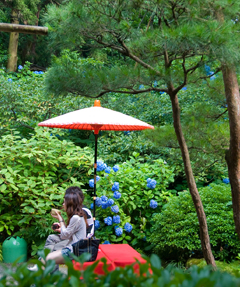 There are things that bring a certain amount of atmosphere to the rain. Namely, Japanese gardens and bamboo groves. The garden ponds and stones, the sound of the rain as it hits the trees, these things rebound and emphasize the quietness of the gardens. The green of the start of summer becomes startlingly deep when wet with rain; the atmosphere more affecting with the scenery suspended in faint mist. For viewing hydrangeas, representative flower of June, a shower of raindrops is far better than a cloudless sky.
Even rain which is nothing but a nuisance to daily life in the city center can be something relaxing when you remove yourself just a little bit from the everyday, and in these places, may even be something you can enjoy.
Rainwear
For when you go off in search of these beautiful rainscapes, or for the many of you who can't spend all day just staring glumly at the rain, why not try a new take on rainwear?
Until recently, rain apparel was simply a necessity to stop you getting wet, a piece of equipment that you couldn't really do without, and as such, the design wasn't something people really put much store in. Apart from children, it would be hard to say that adults trudging through the city in their rain boots were by any means a fashionable sight. However, outdoor brands beginning with Aigle sparked a revolution, and wellies whose name they changed from "nagagutsu" (long shoes) to "rein butsu" (rain boots), have since a few years ago become a major fashion trend among women. Now, there is a wealth of colors, shapes and sizes to choose from.
Moreover, the previously limited in variety rain shoes for men have since seen an increase in stand-out designs, useful for commuting or for just being out and about.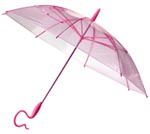 Since the break through of rain boots, more pieces of rain apparel have begun to circulate the marketplace as fashionable items. Those jackets we called rain coats as children are now waterproof trench coats for adults, and appear in a variety of designs that will make you think they're not really rainwear.
Naturally there is a plethora of umbrellas, the old standard of rain apparel, but also umbrella covers and bag covers, little microfiber gadgets that absorb water droplets — a whole host of items can be found in almost every store.
Special Offers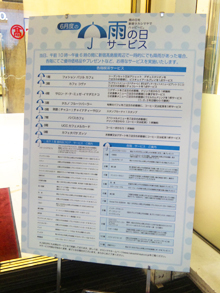 So many of us decide to stay home because of the rain that a few years ago stores started offering a wide range of giveaways, which have now become a staple of the season. For example, supermarkets and dry cleaners give away discount coupons, one free item, double points, etc. Leisure centers and sports grounds offer free entry and item giveaways.