It is no exaggeration to say that 2020 was swayed by COVID-19.
The Expat's Guide to Japan is now sharing information on how to prevent, deal with the viruses and so on with the help of Smart119.
The third topic in the series is "The Correct Timing for Using Hand Sanitizer".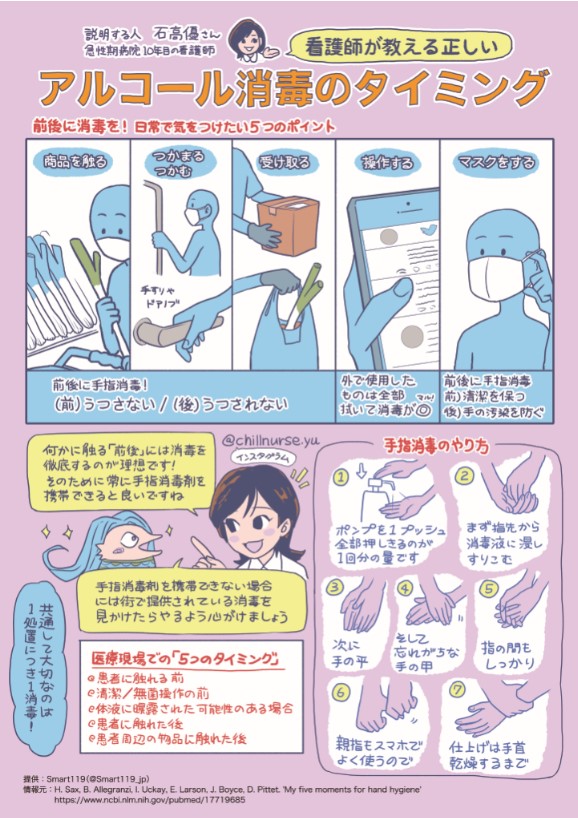 Using hand sanitizer nowadays is as commonplace as wearing a mask.
There may be many people who just pour disinfectant solution on their hands without thinking about it.
Here we learn proper timing to disinfect to use it more effectively.
Basically, the ideal is to disinfect thoroughly "before and after" you touch something.
It's great to carry hand sanitizer with you at all times.
If you forget to carry it, spray it whenever you see; almost every shop offers it in front of the shop nowadays.
Five Points to keep in mind daily basis.
Disinfect before and after doing things!
*Before: not to give infection, After: not to get infection.
・Touching products (e.g. shopping at supermarket)
・Holding on to/Grabbing (e.g. handrails and doorknobs)
・Receiving (e.g. delivery services, exchange things with friends/family)
・Operating (e.g. smartphones, shared machines/PCs etc.); Wipe and disinfect everything used outside
・Wearing a mask; before: to keep your hands clean & after: to prevent hand contamination
Five Timings to hand sanitize in Medical Practice
・Before touching the patient
・Before clean and aseptic operation
・When there is a possibility of exposure to bodily fluids
・After touching the patient.
・After touching items around the patient
How to hands sanitize
1. Push the pump once. * Push all the way through, it's the amount of one-time use.
2. Dip your fingertips into the solution and rub it in first.
3. Rub palms.
4. Don't forget to rub the back of the hands.
5. Rub between fingers too.
6. Rub thumbs that are also used a lot for smartphone.
7. Finish after rubbing your wrists and wait until they're dry.
Uncertain things & things under study
・The effects of antiviral drugs such as Avigan
・Mortality rate and antibody (defense)
・The difference in type and the season of epidemic
・Accuracy problems in inspection
・Fact and the reason that children are less likely to become seriously ill
Points of measures
・It is highly possible that the virus has already infected your surroundings when you show those symptoms.
・Everyone including those who have no symptoms need to wear masks to prevent its spread.
・Social distance is also effective until an effective vaccine/therapeutic drug is available.
Smart119
*The article was written by Professor Takaaki Nakata (Professor of Emergency Intensive Care Medicine, Chiba University) who teaches at Chiba University, and Toshifumi Taniguchi (Lecturer of Internal Medicine, Chiba University Hospital).
The attached manga-style illustration is also supervised by the two above.
Click here to Download the illustration
*What is Smart119?
Smart119 Co., Ltd. is a venture company established by an active emergency doctor from Chiba University School of Medicine.
More about Smart119