It is no exaggeration to say that 2020 was swayed by COVID-19.
The Expat's Guide to Japan is now sharing information on how to prevent, deal with the viruses and so on with the help of Smart119.
The fourth topic in the series is "COVID-19 and Pets ".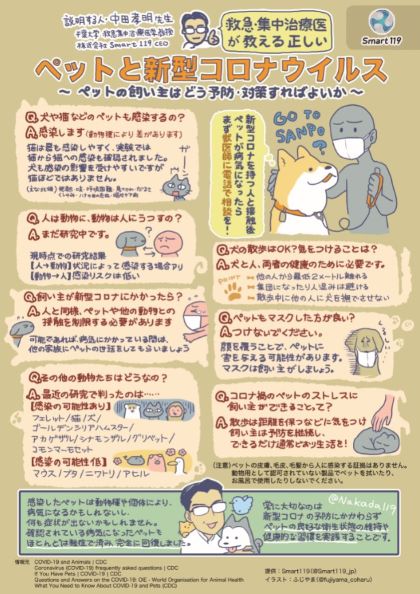 For pets owners, pets are important family members.
There have been various rumors about pets and COVID-19, no end to worry about the pets as well as people.
Let's learn more on how pet owners can prevent and take precautions for COVID-19 here.
Question: Do pets get infected with COVID-19?
Answer: They do (depending on their kinds).
Cats are most likely to get infected, and the transmission of virus between the cats has been confirmed in the research. Dogs are also likely to be influenced, however, not as much as cats do. Common symptoms are fever, cough, difficulty in breathing, short breath, fatigue, sneeze, engorged eyes and nose, vomiting and diarrhea.
Question: Can the virus be transmitted from humans to pets and vice versa?
Answer: Still under study.
The results of study at this point show:
From humans to pets: virus may possibly be transmitted from humans to pets depending on the situation.
From pets to humans: low risk of transmission.
Question: What should pet owners do when they are infected?
Answer: Keep distance from your pets and other animals just like you do with other people.
Have your family take care of your pets if possible until you are recovered.
Question: How about other animals?
Answer: The recent study shows that…
Animals with possibility of infection: ferrets, dogs, cats, golden hamsters, rhesus monkeys, cinnamon monkeys, grivet monkeys, Callithrix jacchus.
Animals with low possibility of infection: mouse, swine, chickens, ducks.
Question: Can we walk dogs? Is there anything to be cautious when we do?
Answer: Walking dogs is necessary to keep both dogs and owners healthy.
Things to be cautious when walking your dog:
– Keep at least 2 meters away from other people.
– Do not walk in a group and keep away from crowd of people.
– Do not let other people pet your dogs while walking.
Question: Should pets be wearing masks, too?
Answer: Do not put masks on your pets.
Covering face may give negative influence on pets, so it is better that owners wear the masks.
Question: What can owners do about stress on pets during corona disaster?
Answers: Pet owners can keep protecting your pets from virus such as keeping distance from others while walking.
Keep your lifestyle as normal as possible!
*Caution: There is no evidence that virus is transmitted from skin, fur and hair of the pets to humans. Do not use any products for wiping and cleaning your pets unless they are approved for animals.
The pets that are infected with COVID-19 may show some symptoms depending on their kinds and the groups they belong to, and some may not show any symptoms at all. Most pets that were confirmed to be infected by the virus showed just mild symptoms and eventually recovered fully. Important things are to keep practicing good hygiene and healthy lifestyle for your pets.
In case your pets became ill after contacting COVID-19 patients, call the vet first for consultation.
COVID19 Uncertain things & things under study
・ The effects of antiviral drugs such as Avigan
・ Mortality rate and antibody (defense)
・The difference in type and the season of epidemic
・ Accuracy problems in inspection
・ Fact and the reason that children are less likely to become seriously ill
Points of measures
It is highly possible that the virus has already infected your surroundings when symptoms appear to you.
Everyone including those who have no symptoms to wear masks will prevent its spread.
Social distance is also effective until an effective vaccine/therapeutic drug is available.
Smart119
*The article was written by Professor Takaaki Nakata (Professor of Emergency Intensive Care Medicine, Chiba University) who teaches at Chiba University, and Toshifumi Taniguchi (Lecturer of Internal Medicine, Chiba University Hospital).
The attached manga-style illustration is also supervised by the two above.
Click here to Download the illustration
*What is Smart119?
Smart119 Co., Ltd. is a venture company established by an active emergency doctor from Chiba University School of Medicine.
More about Smart119