It is no exaggeration to say that 2020 was swayed by COVID-19.
The Expat's Guide to Japan is now sharing information on how to prevent, deal with the viruses and so on with the help of Smart119.
The 6th topic in the series is "Pregnancy in COVID-19 disaster".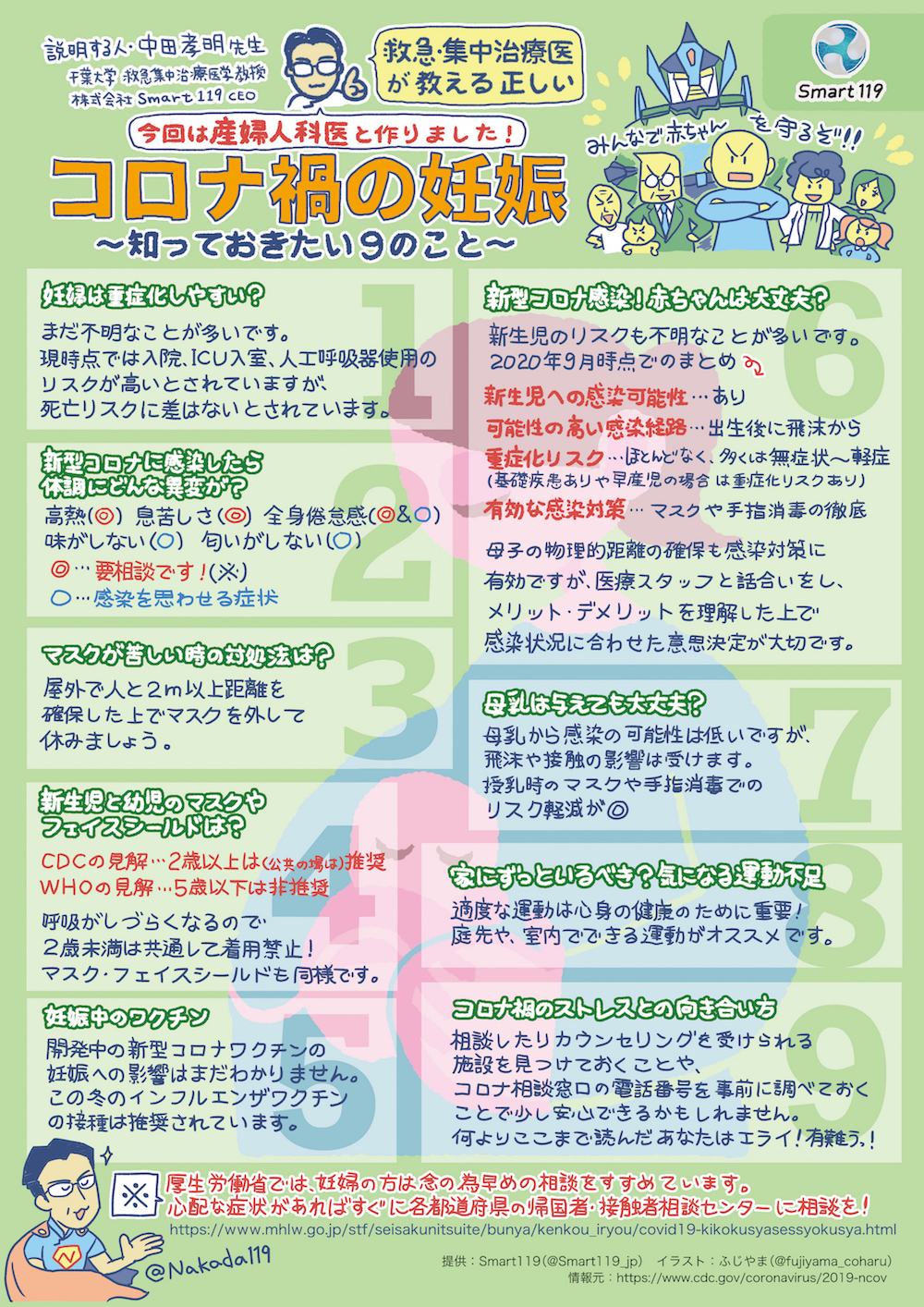 There are still many things unknown about COVID-19 which may cause pregnant women feel extra anxious. Here's a summary of nine things you need to know about pregnancy in this "Corona-era".
Let's protect babies!
Are pregnant women more likely to become seriously ill?
A lot is still unknown.
What is said at the moment is that the risk of hospitalization, ICU admission, and use of ventilator may be higher, but the mortality rate of pregnant women stays the same.
What are the symptoms of COVID-19?

High fever (◎)
Breathlessness (◎)
General fatigue (◎ & ○)
No taste (○)
No smell (○)
◎…Please consult with doctors!
(*The Ministry of Health, Labour and Welfare recommends pregnant women consult with doctors as soon as possible, just in case. If you have any worrisome symptoms, please contact your local Returnees and contacts consultation center as soon as possible. https://www.mhlw.go.jp/stf/seisakunitsuite/bunya/kenkou_iryou/covid19-kikokusyasessyokusya.html )
○… Symptoms of possible infection.
How to deal when you are uncomfortable wearing masks?
When you are outside, take off your mask for breather after making sure that you are at least 2 meters away from other people.
Should newborns and infants also wear masks and face shields?
Not recommended for ages 5 and younger. It makes hard to breathe, so no one under the age of 2 is commonly allowed to wear them!
Vaccines during pregnancy
The impact of the new vaccine under the development for COVID-19 on pregnancy is not known.
The flu vaccine is recommended for this winter.
Mother is Infected by Covid-19, is the baby okay?
The risks to newborns are unknown as well.

Summary as of September 2020
Possibility of Newborns to be infected…Yes, possible
Likely mode of transmission… from droplets after birth
Risk of severe disease… very little, mostly asymptomatic to mild (risk of severe disease in babies with underlying conditions or premature births)
Effective infection control measures…thorough use of masks and hand sanitizer
Physical distance between mother and child is also effective in combating infection, but it is important to discuss this with the medical staff and understand the advantages and disadvantages before making decisions that are tailored to the infection situation.
Is it okay to breastfeed?
The possibility of infection from breastfeeding is low, but it can be affected by droplets and contact.
It is good to reduce the risk of infection by using a mask and hand sanitizer when breastfeeding.
Should I stay home? Concerning about the lack of exercise.

Moderate exercise is important for your physical and mental health! Exercise that can be done in the yard or indoors are recommended.
How to deal with stress in the corona disaster
Finding a facility in advance where you can get advice and counseling and the phone number of the Corona Counseling Service may give you a little peace of mind.
Most importantly, you've read this far, great! Thank you!
Uncertain things & things under study
・The effects of antiviral drugs such as Avigan
・Mortality rate and antibody (defense)
・The difference in type and the season of epidemic
・Accuracy problems in inspection
・Fact and the reason that children are less likely to become seriously ill
Points of measures
・It is highly possible that the virus has already infected your surroundings when you show those symptoms.
・Everyone including those who have no symptoms need to wear masks to prevent its spread.
・Social distance is also effective until an effective vaccine/therapeutic drug is available.
Smart119
*The article was written by Professor Takaaki Nakata (Professor of Emergency Intensive Care Medicine, Chiba University) who teaches at Chiba University, and Toshifumi Taniguchi (Lecturer of Internal Medicine, Chiba University Hospital).
The attached manga-style illustration is also supervised by the two above.
Click here to Download the illustration
*What is Smart119?
Smart119 Co., Ltd. is a venture company established by an active emergency doctor from Chiba University School of Medicine.
More about Smart119