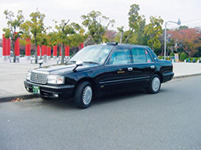 Taxis are widely used across Japan, and in most areas are the only transport service which operates 24/7. Taxi doors are opened and closed remotely by the driver when you board, and opened again only after you have paid at the end of your journey. Most drivers do not speak English, so it is useful to have a map or business card with details (preferably in Japanese) of your destination. All licensed taxis have green number plates. To catch a taxi, simply wave your hand. At night, available taxis will have the roof sign illuminated and by day a sign will be illuminated in the front window on the passenger side. The kanji 空車 (kuusha) meaning the taxi is free is displayed at the front on a red background, while occupied taxis display 賃走 (chinso) in green.
Tokyo
03-5755-2336

(special number for English operator)
Kanagawa
045-743-0100

(Yokohama area)
Fares
Taxi fares are calculated by distance and time. Within the 23 wards of Tokyo plus Mitaka and Musashino cities, the minimum taxi rate is ¥420 for the first 1052 metres. The fare will increase by ¥80 every 233m thereafter. In other parts of Tokyo and in Yokohama, the rate is ¥730 for the first 2km, and increases by ¥90 thereafter (the distance varies by area). The fare is shown on the meter at the center of the dashboard. Late-hour fares (between 10pm and 5am) are usually more expensive. Many taxis in Tokyo accept payment with credit cards and PASMO or Suica.
In some areas you may find fixed taxi rates between the city and the airport or to and from major tourist locations. These fares can make taxi travel a good option for groups, as the total cost may be cheaper than the combined bus or train fares of each passenger.