Fixed Line Telephones
NTT East is the company that provides regular fixed line telephone services in eastern Japan. You can apply for a new fixed line at 0120-364-463 (toll-free). There are 2 plans available, the Analog and the Analog Lite Plan.
Call below for new telephone line applications, additional services or other inquiries.
0120-116-000

(toll-free)
|
Mon-Fri (excl. N.H.&N.Y.H.) 9:00am-5:00pm
Application fees are as follows: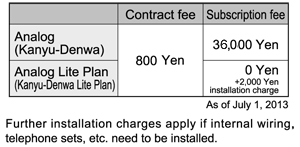 Monthly telephone bills include both basic monthly charges and usage charges. You can pay either by cash, automatic bank transfer or credit cards (some credit cards may not be accepted). All payment methods require application by phone, and you need to fill out a form for payment by credit cards or bank transfer. Call customer service for any assistance.
International Dialing
You can make an international call by simply dialing the international carrier access number, followed by the telephone number.
How to make an international call
International Carrier Access Number + 010 + Country Code + Area Code + Number
To call a Japanese phone number from abroad, dial your country's international calling code followed by Japan's country code (81), followed by the telephone number with the preceding 0 removed from the domestic area code (for landlines, dial 3 instead of 03 for Tokyo, 45 for Yokohama, etc. For cell phone numbers, dial 80 or 90).
How to call a Japanese phone number from abroad
Your Country's International Calling Code + 81 + (-0) Area Code + Number
They have English-speaking support for everything, enabling you to inquire about price plans and discount services. The main international carrier access numbers are as follows:
Dialing Within Japan
Area codes are 03 for Tokyo and 045 for Yokohama. You do not need to add the area code if dialing from a regular fixed line within the area.
Dial 104 for NTT Directory assistance. Although the phone will be answered in Japanese, an English-speaking operator can be requested. Charges apply. See their website for details.
IP Phones
Another choice for fixed line telephone is IP phones. Instead of using an analog phone line, IP phone calls are made over an IP network such as the Internet. IP phones have various advantages such as cheaper rates when making long-distance or international calls. You can easily apply for it when you set up Internet connection to your home. However, you need to be aware that it cannot be used at times of blackouts.
Pay Phones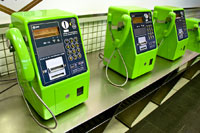 koushuu denwa (公衆電話, Pay phones) are easy to use and are usually located near train stations, in major public buildings, or at stores and can be used with 10 Yen coins, 100 Yen coins or prepaid telephone cards. Pay phones do not give change for 100 Yen coins. Telephone cards are available at station kiosks and convenience stores. Because more and more people have mobile phones, pay phones are becoming harder to find.
Mobile Phones
Japan is an industry leader in mobile phone technology, and mobile phones ("keitai denwa" or just "keitai"/ "携帯電話") are regarded as indispensable for daily life in Japan. In addition to the increasingly popular smart phones ("スマートフォン", abbr. "sumaho" / "スマホ"), even regular Japanese feature phones (aka "garakei" / "ガラケー", named after "Galapagos syndrome" due to the evolution of Japanese mobile technology, taken-for-granted in Japan but unique in comparison to the rest of the world) can come packed with technology such as camera, games, TV, internet browser, and mobile wallet. While the rest of the world sends text messages primarily via SMS, Japanese mobile phones come with their own e-mail addresses and send texts via e-mail.
Using mobile phones
Below are some of the options you can consider when using a mobile phone in Japan.
If you have a 3G or 4G phone, you can use it via international roaming (note that this is not applicable to GSM phones). There is the convenience of not having to change your phone number, however, costs can get very high.
If your handset is SIM free, is compliant with Japanese regulations, and meets technical requirements, you can continue using your phone with a new SIM card. There are several types of SIM cards including prepaid, postpaid, and rental, and costs are reasonable.
For those planning to stay in Japan for some years, buying a new phone from a Japanese company is an alternative. While the advantage of this is fast and stable connection, in most cases the contract is renewed every 2 years and is subject to a penalty when terminating use in the middle of a contract.
There is a lot of paperwork involved in starting a new contract.
Simple prepaid phones are another option for those who are not living in Japan long enough to fulfill a two-year service contract and do not want to pay for the handset up front. To activate and keep a prepaid phone valid, credit for minutes are purchased at sellers or convenience stores at regular intervals. Cell phone minutes are consumed only when making a call, not receiving a call. While minutes are expensive, email text is usually free. Even when purchasing a prepaid phone, customers are required to show proof of identity and residence in order to discourage criminal abuse.
Buying mobile phones
In order to buy a handset, make sure to have your identification and contact information ready, such as your resident card (alien registration card), passport, and address in Japan. A range of plans are available as well as discount services, so check with the websites or shops before you make your purchase. Following are the major mobile phone operators.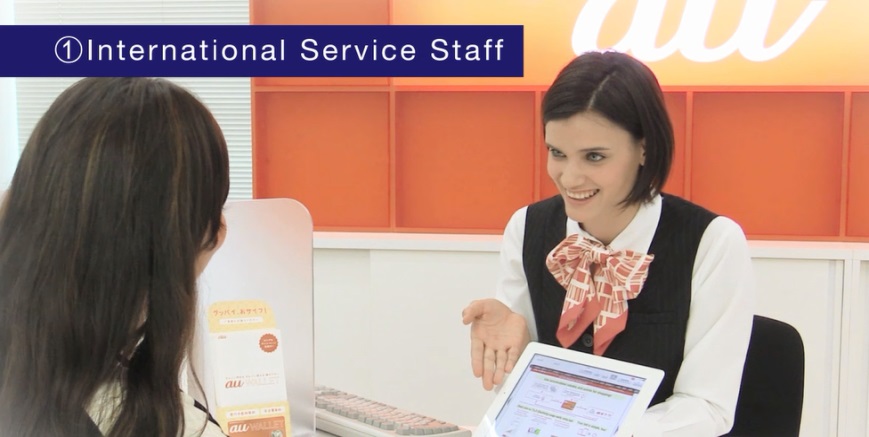 au's foreign language support ensures customer satisfaction from phone purchase to contract's end. An interpretation system for 12 languages is in place to help foreign customers through contract procedures, and some stores have bilingual staff available. Check out their English website or stop by your nearest au shop for more info.
0120-959-472

(English/toll-free)
0800-919-0157

(toll-free)
/ Press "8" for English support
For inquiries on SIM cards, inquire the following company.
03-6721-5032

(Help desk, English only)