Kabuki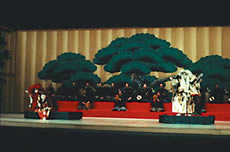 Kabuki's origins can be traced back to the Edo period (1603-1868). In contrast to older Japanese art forms such as Noh, the realm of the upper class, Kabuki was popular with the common people, and it is said that it had been performed by women until the Tokugawa Shogunate forbade it in 1629. From then on, performances were by male actors, including Onnagata (actors who specialize in female roles).
Kabuki plays are about historical events, with moral conflicts, like those in love relationships. The language used is old-fashioned and even difficult to understand for Japanese people. It is spoken in a monotone voice and accompanied by traditional Japanese instruments.
Noh and Kyogen
Noh is a classical Japanese performance, which combines the elements of dance, drama, music and poetry into one, highly aesthetic, stage art. Although largely based in the cities of Tokyo, Osaka and Kyoto, it is performed throughout the country by professionals, mainly men, who have passed down the art among family members for many generations. Many people also learn the Noh's dances, instruments and songs as a hobby or as a way to refine one's sophistication.
Kyogen is classical comic theater, a balance to the more serious Noh. While Noh is musical in nature, Kyogen emphasizes dialogue. The two are sometimes performed alternately on the same program, and they share a common heritage.
Venues for Kabuki and Noh/Kyogen
There are two major places to see Kabuki in Tokyo. One is the Kabuki-Za Theatre, the other is the National Theatre both of which let you experience Kabuki with a headset providing English commentary. Noh and Kyogen plays are staged at the National Noh Theatre with English subtitles. Tickets are sold at the box office, via the ticket center, or online. Prices range from 2,500 Yen to 15,000 Yen or more.
National Theatre (Japan Arts Council)
General Information 03-3265-7411
(Hours 10:00am-5:00pm)
Tickets 0570-07-9900, 03-3230-3000
(Hours 10:00am-5:00pm)
5 min. from Hanzomon Sta.