Means of Communication
In such events, telephones, especially mobile phones, become extremely difficult to reach.
Messaging apps, such as WhatsApp, Line and iMessage are likely to be more reliable ways of
staying in touch.
To allow people to confirm the safety of their family and loved ones, phone companies have
established Emergency Dial and Disaster Message Board Services. These services are made available whenever a major disaster occurs.
◼️Disaster Emergency Dengon Dial
Emergency Dial is a voice message service. It is usually easier to connect to their individual numbers.It can be reached from public phones as well.

◼️Disaster Message Board Services
Disaster Message Board Services are accessible from mobile phones, allow you to leave a short text message. Web171 is a similar service that can be accessed online. Check the websites listed below to see how each service works.
Message boards will also be set up at individual evacuation centers where people may leave their name and a message.

◼️web171

Disaster Prevention Drills / Simulations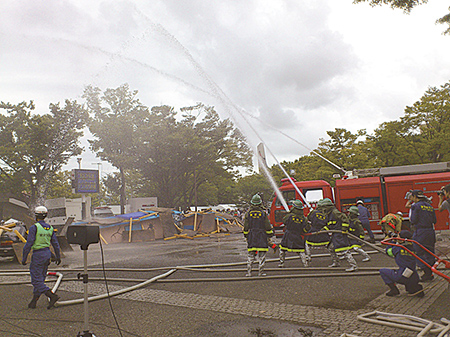 Disaster prevention drills are carried out to prepare for earthquakes. The most exemplary of these is a large scale earthquake drill conducted by national and local governments on September 1st. Drills involve walking from one's home to the nearest evacuation center, use of firefighting equipment, simulating rescuing people from fallen buildings, first aid and use of AED defibrillators. In coastal regions where tsunamis can be expected, tsunami evacuation drills are also carried out. Many schools have their own emergency drills to teach the appropriate response during earthquakes, and to practice returning from school in groups. Foreign residents are also encouraged to participate in these drills, and the number of regions offering instructions in foreign languages via interpreters has increased in recent years. Some areas also offer separate drills designed specifically for foreigners.
Earthquake simulations can also be experienced at the following facilities:

Useful References
These websites & app may help for an emergency.
*App:
https://itunes.apple.com/jp/app/safety-tips/id858357174?mt=8
*App
[19 languages] / Facebook[9 languages] / Twitter, YouTube, Instagram[EN]
Please also check your local ward office's website.