Spots & Events
It's that time of year again when the days are starting to feel a bit longer, the temperature is getting a bit more tolerable, and the early flowers are just beginning to bud. For those who have experienced it, spending a spring in Japan is a unique opportunity that is not quickly forgotten. For those who have wondered why the Japanese begin their school year in April, the answer is here: what better symbol of new beginnings is there then the rebirth of nature in spring.
During this time of year, the cherry blossom takes front and center. Any day now, news broadcasters will begin showing a map of Japan similar to those used for weather forecasts, except that this tracks the northward movement of the budding cherry blossoms. All around the city, parks will fill with Tokyoites looking to catch the first glimpses of a blossoming bud.
This is the season of hanami (花見). Loosely translated as "cherry blossom viewing", hanami is the word for parties held under the branches of cherry trees in parks around Japan. During a two week window in early April, when the cherry trees are in full bloom, people gather with family, friends, or co-workers to eat, drink, and celebrate the season. The following highlights a few of the best areas to do some cherry blossom viewing for yourself.
Ueno Park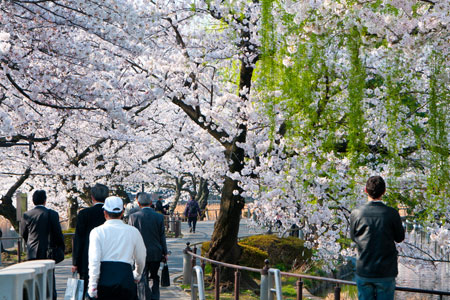 This is one of the most popular locations for hanami in Tokyo. If you can handle the crowds that gather here, you are in for a real treat. While Ueno is a beautiful sight at any time of the year, the more than 1000 trees in full bloom lining the paths of the park are truly awe-inspiring. Coming in the evening for the nightly illumination is also an unforgettable experience.
Website:
Ueno Park
Ueno Sta. on the JR, Tokyo Metro, or Keisei Lines
Meguro River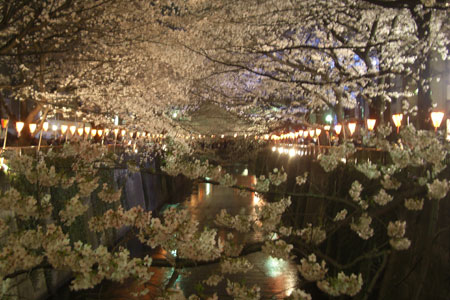 Hundreds of cherry trees line this river in Meguro, an excellent place to stroll and marvel at the spectacle. At nighttime, the lanterns turn on and the soft, white cherry blossoms are reflected onto the water's surface. There are a number of cafes and restaurants in the area that have great views of the river.
☆Cherry blossoms festival will be held in 2023.
Nakameguro Sta. (Tokyo Metro, Tokyu Toyoko Line) or Meguro Sta. (JR, Tokyo Metro, Toei Mita Line)
Inokashira Park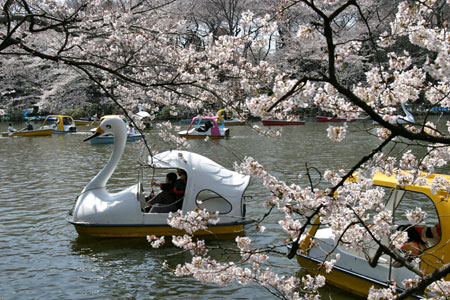 Outside of the center of the city, this park offers the same hanami experience with a little less crowding. There are a number of universities nearby, and so most hanami partiers will be student groups. There are facilities that rent out rowboats on the lake, and the view of the surrounding trees from the water is spectacular.
Website:
Inokashira Park
Kichijoji Sta. (JR, Keio Inokashira Line)
Shinjuku Gyoen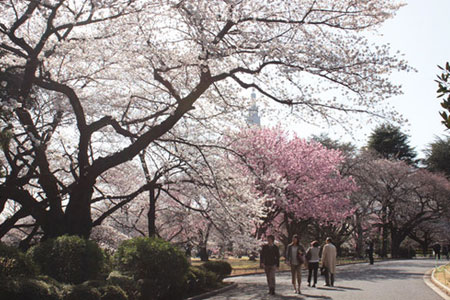 If you are just looking for an area to enjoy the cherry blossoms by foot, this landscape garden is a great option. The park closes in the evening and alcohol is restricted, so while it may not be your best bet for a hanami party, it is certainly more ideal for a relaxing stroll. With more than 65 varieties of cherry trees, the window of opportunity to see some trees in full bloom is longer here than in many other parks in Tokyo.
Website:
Shinjuku Gyoen National Garden
"Sakura night Garden at Shinjuku Gyoen" by NAKED, from Friday, 31st March 2023
Shinjuku-Gyoen Sta. (Tokyo Metro) or Shinjuku Sta. (JR, Tokyo Metro, Odakyu, Keio, Toei Lines)
Shinjuku Gyoen National Garden
Yoyogi Park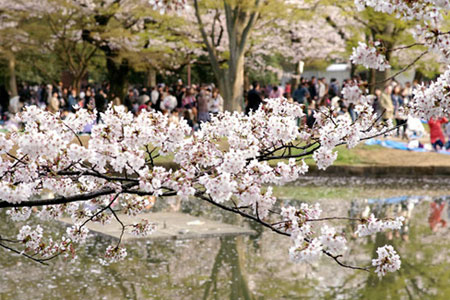 With a lot of green grass and countless cherry trees, this is great place to hold a hanami party of your own. But be sure to come early as it will fill up fast. With its proximity to Harajuku, it is very popular with young people. Many expat groups also gather here to join in the celebration.
Website:
Yoyogi Park
Yoyogi-Koen Sta. (Tokyo Metro), Sangubashi Sta. (Odakyu Line), Harajuku Sta. (JR)