Serving as a monument to remind of the powerful and disastrous force of the atomic bombing of Hiroshima, this site is also referred to as a "negative heritage". Until the bombing on the August 6th 1945, the building had been the Hiroshima Prefecture Ministry of Industry's promotion hall. Despite its location of only 160 meters to the northwest of the bomb's epicenter, the building miraculously managed to escape collapse. Surrounding the building is the Hiroshima Peace Memorial Park, designed by Kenzo Tange, and at its southern tip the Hiroshima Peace Museum and an international conference hall.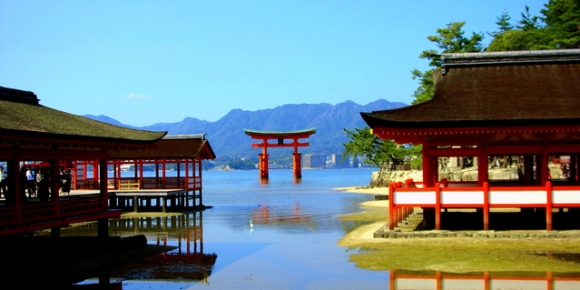 1-1 Miyajimacho, Hatsukaichi, Hiroshima, Hiroshima prefecture
Access from Tokyo:
1hr25min from Haneda Airport (Tokyo) to Hiroshima Airport (Hiroshima). From Hiroshima Airport, take the bus to Hiroshima Sta. (45 min) and then take the JR line to Miyajimaguchi Sta. 10 min on the ferry to Itsukushima from Miyajimaguchi.
Website: Itsukushima Shinto Shrine
Website: UNESCO

(English)